The Aptly plugin brings the power of interest-based personalization to any WordPress site.
Here's how it works:
Install the Aptly plugin. It's free!
Aptly reads the site's content
Each visitor to the site will automatically be recommended the most engaging content from the site, based on their interests.
If you are a Cerkl partner, you can use Aptly on any kind of site. 
To install Aptly on your site from Cerkl, go to Settings>Aptly. Then select your display preferences and click "Get Code." Place the code wherever you want to sprinkle some personalization magic!
About the Author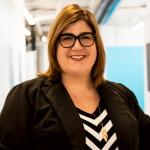 View posts by this author