KyForward.com, Kentucky's Online Newspaper, is Cerkl's newest partner in personalization.
KYForward.com is the brainchild of Judy, Gene and Jacob Clabes. The Clabes family bring decades of journalism and digital knowledge to the site, along with a passion for building stronger Kentucky communities by telling stories.
Each day, KyForward.com publishes business, government, health, education, sports and lifestyle news on their site. But with such a wide variety of stories and a large coverage area, the site struggled to personally engage their audience.
Jacob Clabes, President, Brand Marketing Division for KyForward.com tells Cerkl that his team was spending hours each week designing a Constant Contact newsletter. That cost the small team precious time that could be better spent telling Kentucky's stories.
Now the team has emails going out all of the time, and they don't have to touch them at all.
On Tuesday, July 18, 2017, KyForward launched their Cerkl. Their subscribers were invited to personalize their experience with the site. Subscribers now get to choose the timing, topics, and format of their newsletter.
"Subscribers are very excited about the personalization," said Jacob Clabes. "They've already replied to our Welcome Email, saying how excited they are for this service."
"This one is a big deal for me," said Cerkl's Co-founder and Distributor of Pixie Dust, Sara Jackson. "As a lifetime Kentucky resident and a longtime admirer of Judy Clabes, I am proud to have KyForward.com as a partner."
KyForward is in great company. They join media brands like Simplemost, Newsy, Don't Waste Your Money, and Nonprofit Quarterly in automatically creating personalized experiences for their audience.
About the Author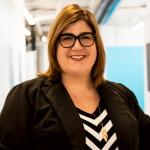 View posts by this author