Whether on stage, in the classroom, or in a gallery, The Carnegie inspires creativity for all. The Carnegie is the largest and only multidisciplinary arts venue in Northern Kentucky, with The Carnegie Galleries, the Eva G. Farris Education Center and the Otto M. Budig Theatre housed together under their landmark dome.
"With a 3-tiered organization, Cerkl will allow us to pinpoint what our patrons care most about and highlight that information to them," Carnegie Director Kim Best shared. "We found that with so much information going out, people would have to 'hunt' for the information they wanted."
The Carnegie's personalized Cerkl newsletter is a curated showcase of all The Carnegie's wonderful work in the community. Subscribers will enjoy personalized programming recommendations, along with organizational stories.
To stay up-to-date on the gallery shows, education opportunities and amazing performances The Carnegie has to offer, be sure to sign up for their Cerkl.
About the Author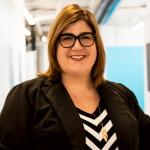 View posts by this author