Donor Relations Guru Lynne Wester
Lynne Wester, widely known for her Donor Relations Guru blog and website, has quickly become the leading resource for creating donor-focused fundraising strategies. Using her expertise and hands-on approach, Lynne works with organizations to keep their focus donor driven, technologically savvy, strategic, and always with a splash of good humor.
Her website, LinkedIn, and Cerkl are must-reads for anyone in fundraising or development.
Lynne's long been a fan of the Cerkl approach to engagement. In a 2016 blog post, Lynne celebrated Cerkl partner University of Dayton's donor communications.
CMOVC: Tim Kopp
Tim Kopp has a resume that would make any marketer green with envy. He's held marketing leadership roles at Procter & Gamble, Coca-Cola, ExactTarget, and WebTrends. Now his passion is helping entrepreneurs build great companies through world-class marketing, sales, and talent development.
His site, cmovc.com is all about his journey from Chief Marketing Officer to Venture Capitalist. Tim knows the value of good design and personalization; that's why he chose Cerkl to power his communications.
Chocked full of real advice, the CMOVC Cerkl should be required reading for future-minded marketing & sales leaders.
Lynne and Tim are in great company. Other thought leaders like Aileron and Advanced Technology Consulting are utilizing Cerkl to communicate big ideas and drive engagement.
About the Author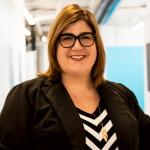 View posts by this author