Employee satisfaction and a feeling of well-being can lead to an increased level of fulfillment, productivity, commitment, and loyalty. Research shows that satisfied employees are 13% more productive. Importantly, they work faster and achieve more. But how can managers gauge the satisfaction level of their employees?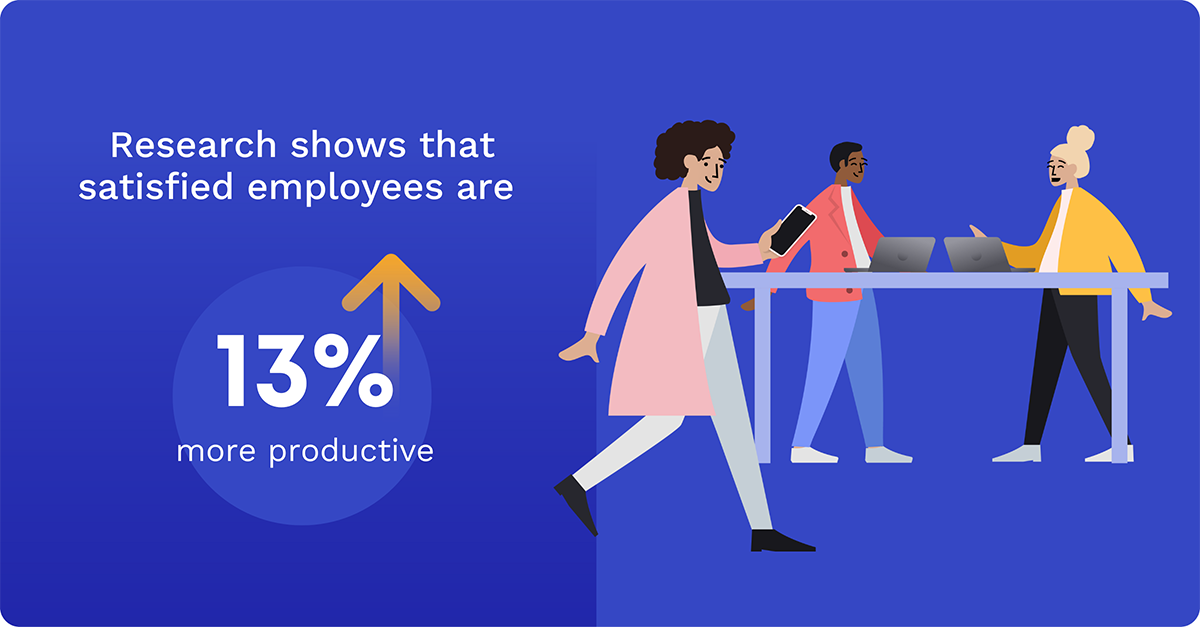 The answer is an employee survey, which can be an essential tool for measuring and enhancing workplace satisfaction. However, key findings from a WTW Talent Implications Survey show that only 31% of companies conduct employee surveys. This indicates a very real need for organizations to introduce more listening efforts and strategies.
With this in mind, we are going to explore different types of employee surveys and analyze how they can be used to make positive changes in the workplace.
What is an Employee Survey?
An employee communication survey is a vital tool used by internal communicators in a broad spectrum of organizations. The function of employee surveys is primarily to gauge employee engagement, employee experience, and employee satisfaction.
There are many different types, ranging from employee engagement and employee experience surveys to employee satisfaction surveys. They all provide a powerful gauge for the health of an organization, helping to pinpoint areas that require attention and action. According to the Achievers Workforce Institute's Engagement and Retention Report, 58% of employees wish that their companies conducted employee engagement surveys more frequently.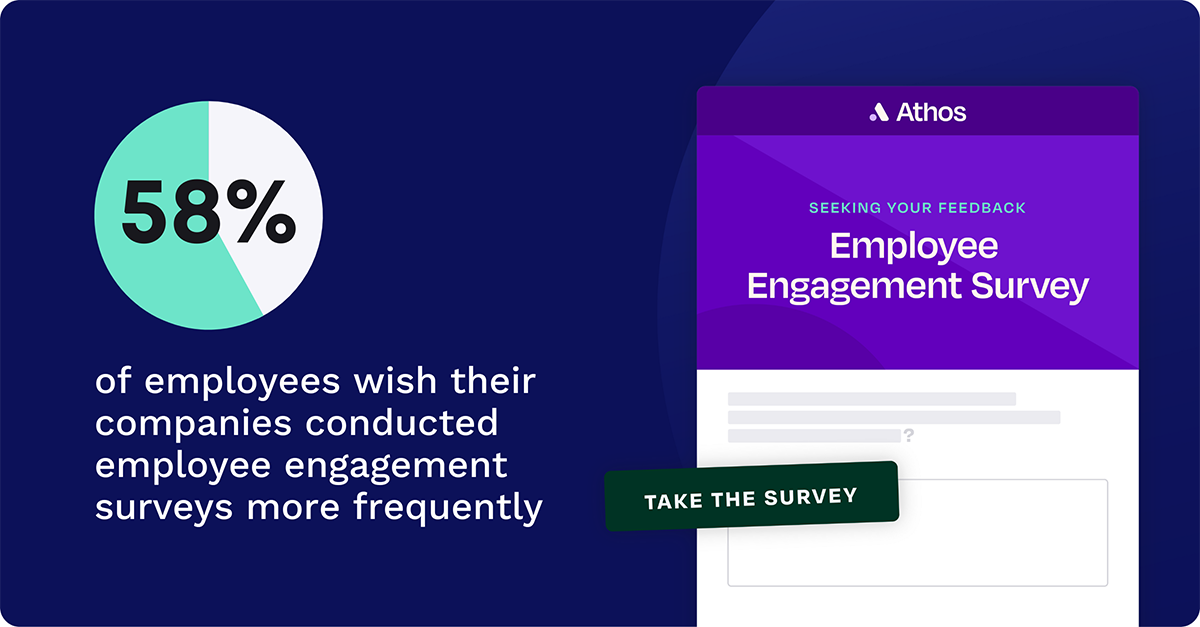 More importantly, an employee survey enables a company to get feedback directly from its workforce. This helps to identify barriers that negatively impact employee satisfaction and productivity. Also, they allow a company to measure its work culture, employee retention, brand awareness, and business processes.
5 Key Considerations Before Conducting Employee Surveys
Before you launch any type of employee satisfaction survey, you need to define your objectives. You also need to establish a framework for questions and a schedule that will govern the extent and timeframe of the survey. Take into account that business, economic, and geopolitical issues can all have a significant impact on employee engagement and subsequent productivity. For this reason, you need to make sure your surveys effectively expose the true feelings of employees about their work.
Then, once you've gathered the data you want, you'll need to interpret it and act on it in the most meaningful way possible.
1. Define Your Survey Goals
Before undertaking any employee engagement survey, it's crucial to define its purpose. This will ensure that you achieve your objectives.
For instance, are you interested in gauging employee experience, improving employee engagement, or uncovering issues influencing employee retention? Defining your goals will guide the development of survey questions and the interpretation of survey results. And to be effective, they need to be clear and focused.
2. What are you trying to measure?
Clarify the aspects you want to explore and measure. Are you interested in understanding the effectiveness of your professional development programs? Is the impact of senior leadership on team culture important? Do you want to establish the level of employee well-being?
Once you have the answers, you can establish a set of internal communication KPIs and metrics that indicate how employees feel. Inevitably some will agree with management values and required achievements. Others probably won't.
3. Stick to a Framework
While it's tempting to use employee surveys to ask about everything, it's best not to. Use a tried and tested framework to ensure you're asking the right questions, in the right way, to get useful data. For instance, you might opt for a customer satisfaction framework for an engagement survey or an effectiveness survey framework for a professional development survey. It all depends on your survey goals.
4. Keep Answers Anonymous
Anonymity is key to getting honest and unbiased feedback from your employees. By ensuring an anonymous comment collection method, employees are more likely to express their true feelings and thoughts. Ultimately, this will lead to more accurate and actionable data.
Additionally, there is no doubt that anonymity assumes even greater importance in the case of an employee opinion, employee attitude, or an employee satisfaction survey. When employees know their responses are private, they're much more likely to provide honest feedback. This feedback then becomes a valuable resource to drive meaningful change.
5. Use a Trusted Survey Tool
Conducting employee surveys manually can take a lot of time and require significant resources. Using a survey tool can streamline the process, making it more efficient and accurate. Tools available today offer easy-to-use survey templates, analytics of survey results, and even options for emoji reactions or star ratings for more engaging experiences.
Some survey tools offer a free trial to see how they fit with your needs. Consider options with online chat analytics support, partial IP number analytics for better security, and cookie permission settings that comply strictly with data privacy regulations.
Key Types of Employee Surveys to Gauge Workplace Satisfaction
Employee surveys are crucial for any type of business. This is because they provide insights about employee engagement, employee satisfaction, work culture, and many other important elements. But it's important to choose the right type of survey to gauge workplace well-being and satisfaction.
We've mentioned some of the different types of employee surveys that can be used for different purposes. Now we're going to look at the most common survey types that you can use to measure employee engagement and satisfaction in more detail.
Employee Engagement Survey
The employee engagement survey is designed to understand how involved and devoted employees are to achieving a company's objectives. This type of survey tackles questions about employee commitment, motivation, and the alignment of personal and company values.
It gives a clear indication of what the employees feel about the company. This includes their relationship with team leaders, understanding of business processes, advancement opportunities, and their views of senior leadership. This type of survey can also be used to measure brand awareness among employees.
Remember, the goal of these surveys is to enhance employee engagement which directly links to employee retention. That's what makes them important.
Employee Satisfaction Survey
An employee satisfaction survey measures how satisfied your employees are with their jobs. This includes their work environment, their relationship with supervisors, and the overall company culture. A survey of this type is essential to ensuring that employees are happy and content within their working environment.
Employee satisfaction surveys can be as simple as requesting an emoji reaction, star rating, or perhaps an anonymous comment. All of these response types can be hugely effective. Also, online chat analytics and partial IP number analytics can be used to acquire accurate data.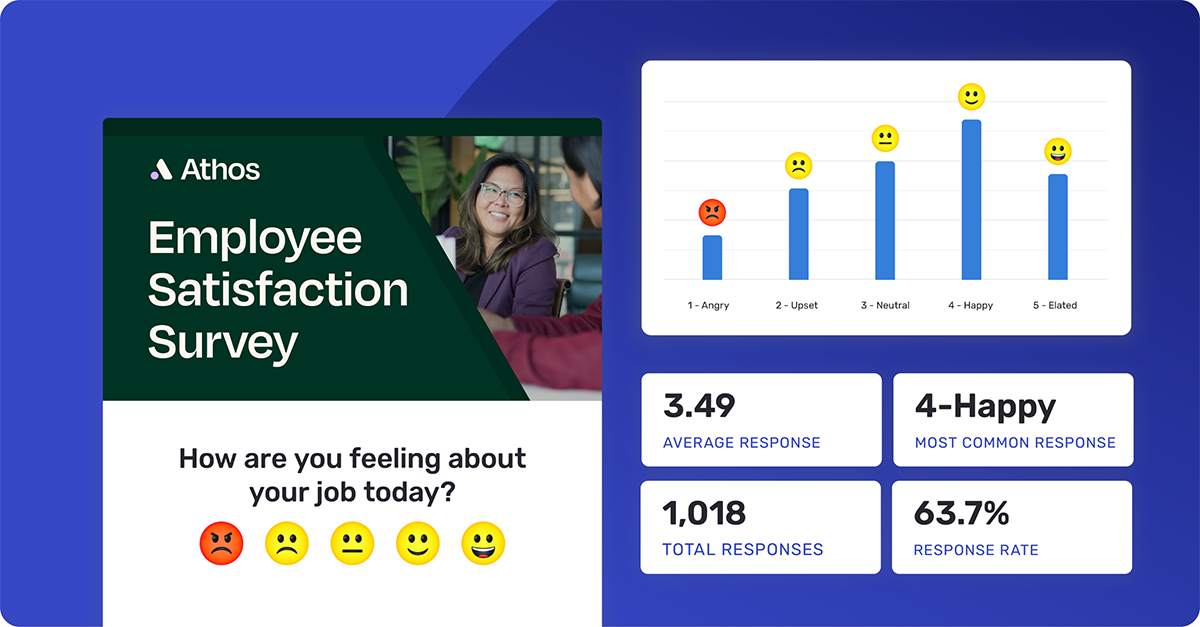 Employee Feedback Survey
A feedback survey is used to gather insights into how employees perceive a company, its policies, and its practices. This type is usually quite broad and can touch on a range of areas. Suggestions include professional development, job satisfaction, work safety, leadership team effectiveness, and overall organizational performance.
Employee feedback surveys should always be conducted anonymously to help ensure that you get honest feedback without fear of retribution. Survey software can be very useful for this purpose.
Job Satisfaction Survey
This survey type focuses on individual satisfaction derived from job roles. It also aims to get information about how well these roles align with individual skills and aspirations.
A job satisfaction survey may involve questions related to job responsibilities, workload, career growth, coworker relationships, and work-life balance. You can use this survey type to ascertain how happy and fulfilled your employees are with their jobs. This, of course, directly impacts your company's productivity.
Employee Benefits Survey
The benefits survey aims to get an understanding of how employees feel about the benefits they get from a company they work for. The questionnaire may include queries about health insurance, pensions, or other perks and advantages offered to employees.
By not doing these particular surveys, you may end up with under-utilized benefits or without benefits that may be highly appreciated. For this reason, it is a crucial tool for employee satisfaction and retention.
Employee Pulse Survey
The employee pulse survey is a short, quick survey that provides insights into the overall health of a company. It is usually carried out regularly, either weekly, bi-weekly, or monthly. In essence, it is used to "take the pulse" of employee sentiment about various aspects of any company. This could include things like morale, work culture, or changes in policy.
Like all survey tools, it's essential that a pulse survey tool is user-friendly. It helps to have the choice of survey templates. It also makes sense to use a survey platform that has robust reporting capabilities for analyzing results quickly and efficiently.
Anonymous Employee Survey
Any anonymous survey allows employees to provide constructive and honest feedback about their work experience without fear of punishment or retaliation. This way, anonymous feedback can provide valuable insights into areas that need improvement. Taking action provided by feedback is an excellent way to help increase employee engagement, satisfaction, and productivity.
Employers need to use anonymous employee surveys constructively. Then they will get to understand how their employees perceive the organization on a deeper level. This is more likely to foster an increasingly productive and positive work environment.
Employee Wellness Survey
An employee wellness survey focuses on assessing the health and well-being of employees. It evaluates things like stress levels, work-life balance, work-induced health issues, and the effectiveness of wellness programs the company has put in place.
There is no doubt that companies globally are now more invested in the well-being of their employees. Therefore, a strong understanding of "employee wellness" can be a crucial factor in maintaining high levels of employee satisfaction and engagement.
Company Culture Survey
Company culture surveys evaluate employees' attitudes toward company values, norms, and beliefs. The purpose of this kind of survey is to find out whether company culture aligns with what employees value. It also aims to foster a sense of unity, loyalty, and engagement.
Apart from revealing how well a company's values resonate with employees, a well-executed culture survey can help identify areas for improvement in the work environment.
Employee Morale Survey
An employee morale survey is designed to get insights into the overall mood, attitude, satisfaction, and outlook of employees within a company. It's very important because it can have a direct impact on productivity.
Analyzing the results from a morale survey can help organizations to create strategies that will boost employee morale. This is important because high morale links directly to high productivity. That's a fact!
Employee Exit Survey
This type of survey is usually conducted when an employee resigns from an organization. The exit survey provides valuable input about job satisfaction, the work environment, management, and a host of other factors that may induce an employee to leave.
Even though it may seem a little late to use this data when an employee leaves, it can help identify problem areas. Management can then take corrective actions that may increase employee retention in the future.
Employee Happiness Survey
Similar to a satisfaction survey, an employee happiness survey focuses more on the emotional aspects of an employee's work experience. This might involve questions about how much an employee enjoys their work, how often they feel stressed, or whether they feel their work is meaningful.
A happy employee is usually a productive employee, so gathering this information can prove critical to the overall success and growth of the company.
How to Effectively Utilize Employee Surveys
We've discussed the fact that employee surveys are critical tools that businesses use to gauge employee engagement, employee experience, and the overall health of the company culture. When used effectively, these surveys can significantly improve various business processes, enhancing employee retention and brand awareness.
Choosing Effective Employee Survey Types
As you have seen, there are many different types of employee surveys. Two typical examples are employee engagement and employee experience surveys. A good employee engagement survey will gauge the overall level of employee engagement within the organization. The employee experience survey will evaluate employee's interactions with various aspects of the workplace and their overall work culture.
Not that company culture is a significant determinant of engagement levels, making both these survey types extremely important for any organization.
Onboarding surveys and exit surveys are two other effective employee survey types. An onboarding survey will assess the effectiveness of the company's onboarding process. An exit survey, on the other hand, will look for feedback from an employee when they leave the organization.
Another type of employee survey is the employee satisfaction survey which measures how satisfied the employees are with their jobs. Use a survey tool for your satisfaction survey, and don't forget to include a variety of survey questions, from open-ended to star-rated options.
Interpreting Employee Survey Results
Interpreting survey results can be a daunting task. But it's integral to the success of any employee survey. It's important to understand that a high score in customer satisfaction may not necessarily mean a high score in employee engagement or a positive employee experience.
It's also crucial to consider the employee feedback in relation to other factors. For instance, the leadership team needs to consider if a low score in employee engagement is a result of a lack of professional development opportunities, or if it's due to weak senior leadership.
Once you have the survey results, you can use them to drive improvements in these areas. Tools like emoji reaction scoring and online chat analytics can help the leadership team better understand and analyze the survey responses.
Whatever tools you opt to use, remember to maintain the privacy of the employees while you interpret results. Be sure to stick strictly to the parameters of cookie permission settings.
Implementing Improvements Based on Employee Feedback
Once you've interpreted the results of a survey, the next step is to implement improvements based on employee feedback. Once you've implemented changes, you'll need to give them time to take effect. But you'll want to assess their success sometime in the not too distant future. Again, employee surveys hold the key.
Pulse surveys come in really handy here. These are short, frequent surveys that help track the effect of changes made, providing real-time feedback. They will also help you to gain a better understanding of employees' feelings about these changes.
Ultimately, it's vital to communicate changes to team leaders as well as the broader workforce. If your employees see their feedback being considered, it will boost their morale and trust in the company. But you need to provide this feedback. For instance, if the majority of your employees request more professional development opportunities and your leadership team is working on making this happen, make sure to communicate this back to your employees.
How Cerkl Software Supports Employee Surveys
Cerkl Broadcast offers an easy-to-use platform that will enable you to compile, conduct, and analyze all types of employee surveys.
It may not seem obvious at first glance, but Broadcast Email Blasts provides the key. For example, you can add a Broadcast Pulse Survey to your Email Blast by simply dragging and dropping the survey into your Email Blast. Then you can choose from a range of reactions including stars, emojis, numbers, thumbs up or down, and a simple yes/no or tick/cross.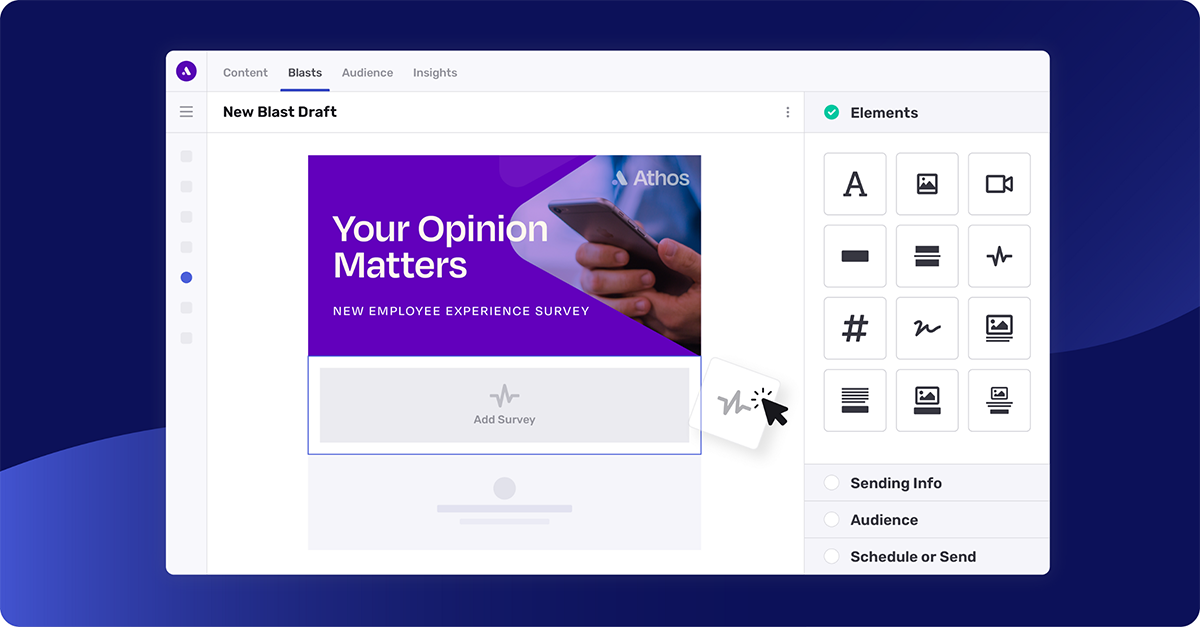 Once you have your responses back, you use Communication Analytics and Insights to analyze the metrics. These will show you how many employee surveys were sent, how many were delivered, and how many employees opened them. It will also provide you with click rates, including unique clicks.
What's Next?
Are you ready to get started with an effective employee survey?
We'll help you get going with Broadcast and show you how you can use our Email Blasts for surveys. It's an opportunity you won't want to miss.
FAQ
How many types of employee surveys are there?
We have provided 12 examples of employee surveys. But there are many more, depending on your objectives. For example, in addition to those already mentioned, you might also do onboarding surveys when new recruits join an organization. This will show how effective the recruitment and integration processes were. Similarly, an employee training survey would provide the opportunity to evaluate the impact and acceptance of training on new employees.
What are the most common employee surveys?
The various types of surveys that focus on employee engagement and performance are very common. They indicate organizational trust, employee commitment to coworkers, and help to measure the capabilities of employees. Employee engagement surveys and employee experience surveys are also commonly used.
What is another name for an employee survey?
There are many names for employee surveys. It depends on the focus. Examples include an employee engagement survey, employee satisfaction survey, and any other type of employee survey you might choose to use to gauge employee engagement levels. 
How to develop and conduct employee surveys?
The best place to start with your first employee survey is to find an effective tool to help you put the survey together. Then you can determine the focus of your employee survey and strategize its timing. You'll need to decide on its framework and the survey questions that you want to ask. Once you've collected the data, you need to analyze your key findings and decide whether/how to implement them.