Internal communications are more important than many organizations realize. But to be effective, comms systems generally rely on software. There are many options, but unless there is ease of use coupled with a streamlined employee communication platform designed for the purpose, it may not work well. More importantly, employees often struggle to use internal communication software for various reasons. These include complex user interfaces, inadequate training, resistance to change, and software that doesn't align with their specific job tasks or preferences.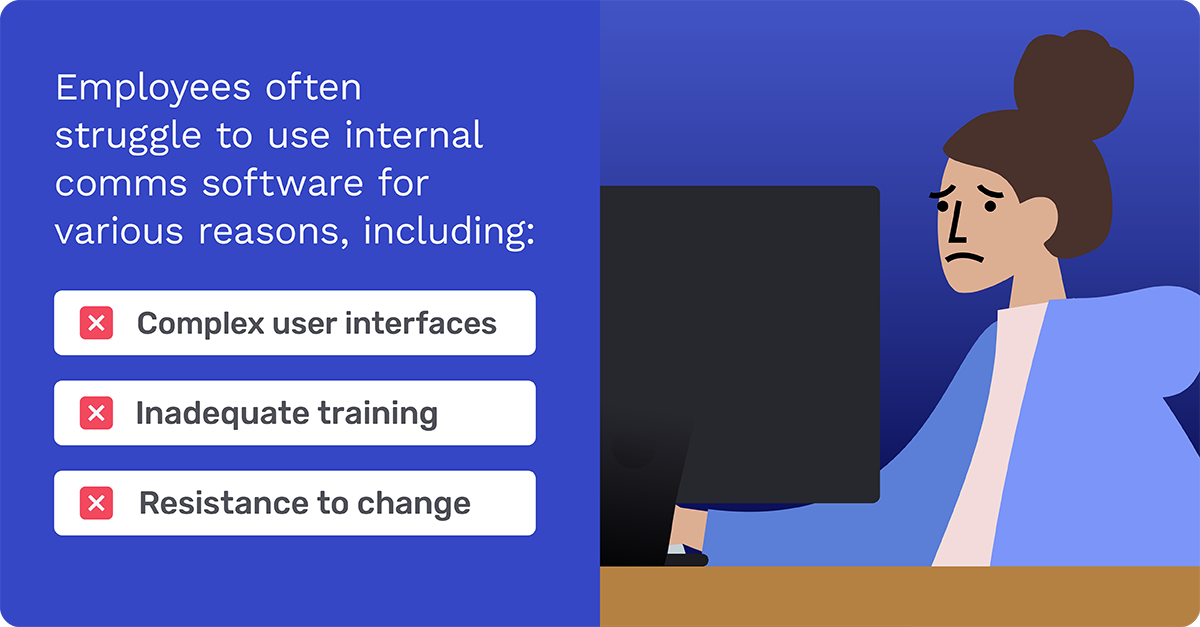 Internal communication serves as a conduit for disseminating essential company information. It also ensures that employees are well-equipped to excel in their roles and stay informed. Its primary objective is to facilitate the seamless exchange of information among various departments and colleagues within an organization.
This means that every organization needs a clear, effective internal communications strategy that is user-friendly. But, as communications boffin Josh Ong writes in Forbes, many companies tend to prioritize their customers, sometimes neglecting a crucial stakeholder, their own employees.
While he doesn't elaborate, we at Cerkl recognize that there are many reasons, not least of which is a lack of easy to use technology or tools. Without the right technology and an effective employee communication platform, companies may struggle to facilitate efficient communication among employees. Using outdated or inadequate internal communication tools can also hamper the process.
Why Are Internal Communications So Important?
Internal communications hold significant importance as they align everyone within the organization towards a common objective. This fosters a more unified strategy, minimizing confusion and inefficiencies. Consequently, the approach to internal communications should never be an afterthought or an optional component of a campaign. Instead, it should take a central role, clearly articulated across the entire organization.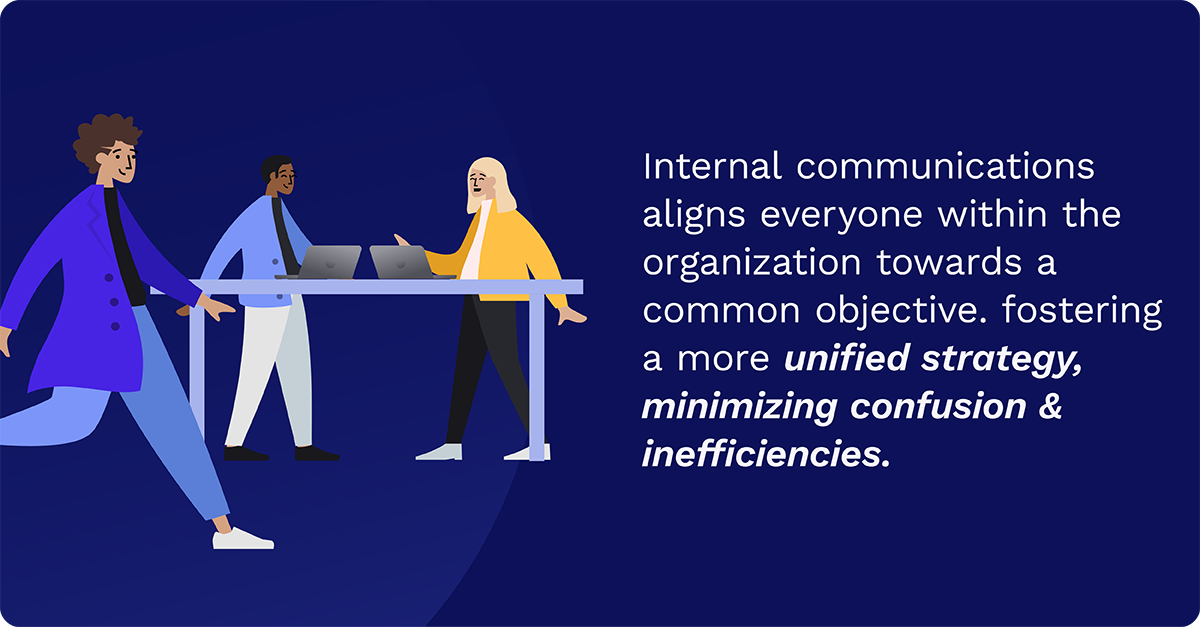 As Ong says, "All companies, no matter how big or small, should be coming up with ways to facilitate and encourage communication between employees – not just from the top down, but also between peers."
The University of Southern California Annenberg School for Communication and Journalism recognizes the crucial importance of both internal and external business communication strategies. They highlight the fact that efficient communication models are of paramount importance in business today, stating: "Ultimately, a strong internal and external communication strategy can not only help a business reach its profitability and stability goals but also allow it to emerge as a trusted leader with a sterling reputation."
A recent study co-written by Linjuan Rita Men, the University of Florida College of Journalism and Communications PR professor and director of internal communication research focuses on employee organizational engagement. Redefining the link between internal communication and employee engagement found that when employees were happy and satisfied with internal communications, employee engagement increased. It also led to greater organizational support, although to a lesser degree.
Why Opt for an Employee Communication Platform That Offers Ease of Use?
This question is a no-brainer. User-friendly software that offers ease of use saves employees time. They can navigate the interface quickly, perform tasks efficiently, and focus on primary responsibilities, rather than struggling with complex tools. When software is easy to use, employees can complete tasks more efficiently. Productivity increases because they can accomplish more in less time.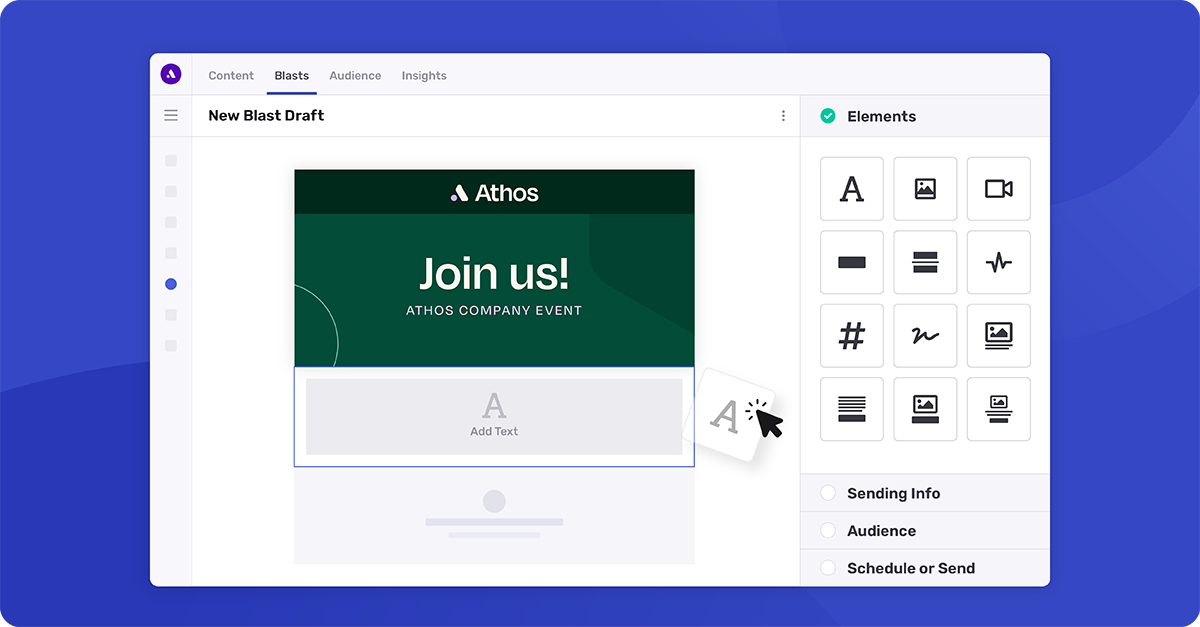 On the other hand, when software used to build an employee communication platform isn't easy to use, employees often become frustrated. This can lead to lower job satisfaction and higher stress levels.
If internal comms are going to be successful, it is important that the employee communication platform used is accessible, efficient, and easy to use. This will ensure that employees can quickly adopt and start using it without significant training or learning curves. When communication tools are intuitive, more team members are likely to embrace them. Easy to use software is accessible to a wider range of employees, including those who may not be tech-savvy or have limited experience.
A user-friendly interface that doesn't require coding knowledge is a good ease of use example. IT teams also benefit because no-coding software allows them to implement and manage systems more quickly and efficiently, saving time and resources.
Another ease of use example relates to rapid setup and a lower learning curve. Simple and intuitive software reduces the setup time. Employees can start using the tool almost immediately, without extensive training or configuration. Easy-to-use software minimizes the learning curve, allowing new employees to become productive faster. It also reduces the need for ongoing training and support.
As an internal communicator, you'll need some technical knowledge to manage user accounts, security settings, and system configurations. But this doesn't necessarily imply the need for coding know-how.
5 Pointers: How to Evaluate Whether Software is Easy to Use
Here are five indicators you can use to evaluate whether software offers ease of use.
Does it require IT support? User-friendly software should require minimal IT support for basic tasks and troubleshooting. If it doesn't offer ease of use, it will need extensive IT support for routine operations.
Do you have complete freedom to create what you want? An employee communication platform that is user-friendly will empower users to create and customize content without complex coding or technical expertise. If customization is limited, overly complex, or requires extensive coding knowledge, it's not going to be easy to use.
Will you be faced with challenging analytics? Analytics that are buried in complex menus or require specialized skills to access, don't offer ease of use. If you opt for software that is easy to use, analytics and reporting features will be accessible. You will be able to track and analyze data without significant obstacles.
Can you self-manage segments of your employee communication platform? Self-segmentation features should be intuitive and accessible for users to manage without requiring significant IT or technical assistance.
Is there non-IT based support for using dynamic fields? If there is a lack of readily available non-IT support for using dynamic fields, non-technical users won't find the software easy to use.
Easy to Use Broadcast Employee Communication Platform
Cerkl Broadcast offers internal communication software for a broad range of organizations of all structures and sizes. We recognize how challenging successful internal comms can be, which is why we offer a personalized approach with a strong focus on ease of use. Our cutting-edge comms software is super-simple to set up and ultra-easy to use, even if you have zero training or experience coding. Popular features include centralized, real-time insights, and easy to use dashboards.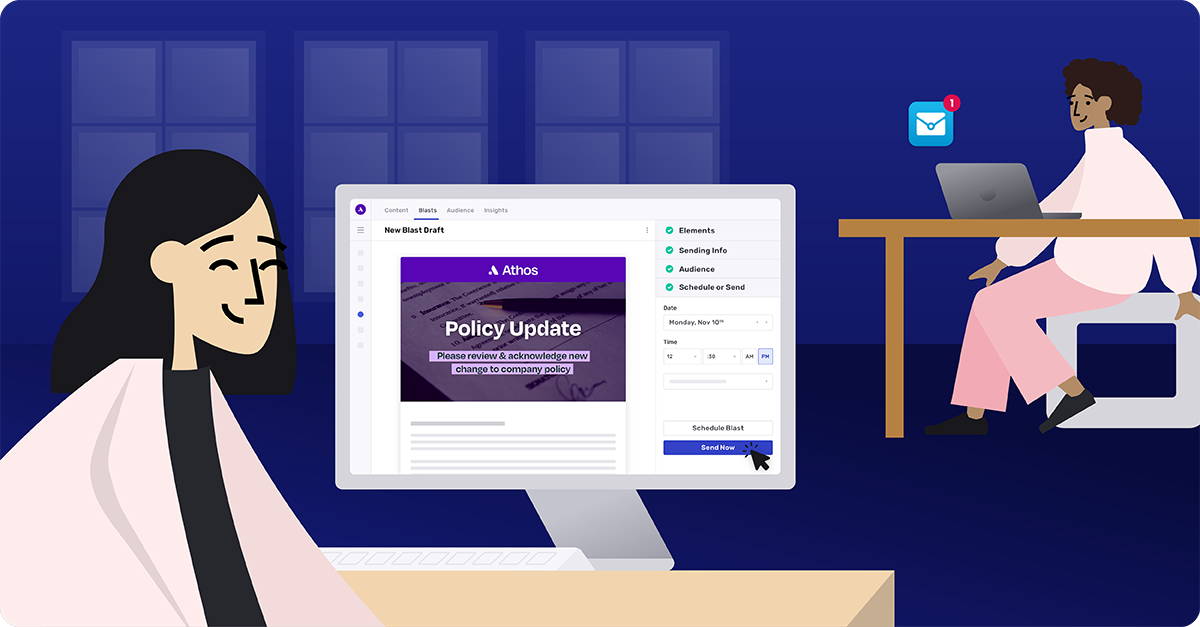 Ultimately, we are dedicated to helping you deliver precisely targeted employee communications through their preferred channels. Our employee communication platform offers a comprehensive approach to managing employee communications, all in one convenient location. Unlike traditional email tracking, or solutions for deskless workforces, our platform is designed to evolve in tandem with your current and future employee engagement strategies.
We understand that each organization is distinct. That's why we collaborate closely with you to craft a personalized roadmap, never resorting to a one-size-fits-all approach when it comes to employee communication plans.
Implementation of our platform is super-easy too. Don't believe us, believe our customers:
"Honestly, I've never had a more streamlined implementation process! … the team has been so amazing to work with!" – Olivia Groth, senior manager at Integrated Living.
Features of Broadcast Software
Broadcast offers internal communicators a full suite of easy-to-use features to meet all your needs. Whether you are facing a challenging M&A, changing management roles, needing to reach remote as well as onsite employees, or searching for an email-less comms solution, we've got you covered.
Our software enables internal communicators to find solutions to various types of communication whether it involves productivity, HR benefits, compliance, or employee retention. You can also use Broadcast to power your diversity, equity, and inclusion (DEI) strategies. Our employee email platform offers streamlined comms that are time-sensitive and an audience manager that lets you target specific employee lists.
We make analytics and reporting less complex for non-technical users. Broadcast produces reports you can actually use and gives you the option to download everything to run in spreadsheets. You can also access information on why your analytics matter.
We are constantly working on new features to make Broadcast even more efficient and easy to use. For example, no-code audience integration and drag and drop email blasts ensure that initial setup involves minimal time and challenges. We offer lots of context and support to make sure the overall experience is consumer orientated.
One of our outstanding new features is Broadcast Campaigns, which is designed to boost internal communications and measure effectiveness.
Our key is, quite simply, ease of use.
What's Next?
Are you ready to join the many internal communicators who have simplified their jobs using Cerkl Broadcast? Our entire suite is designed to streamline internal communications so that you can engage your entire workforce effortlessly and effectively.
The central hub is MyNews Engine, which will put you in control of your internal communications. Interested? Let us show you how an effective employee communication platform can be both comprehensive and easy to use.
FAQ
What are the standout benefits of an easy-to-use employee communication platform?
It's intuitive, and efficient, reduces errors, improves productivity, and enables improved collaboration. It also allows employees to perform routine tasks without relying on extensive IT support, freeing up IT resources for more strategic projects.
Why is ease of use so important?
Ease of use can have an amazingly positive effect on any workforce. Ultimately, it can lead to increased job satisfaction, with employees experiencing fewer frustrations. This, in turn, leads to more positive interactions in the workplace whether it's on-site or remote.
Why are no-code software solutions so appealing?
No-code software is designed with interfaces that don't require coding knowledge. They are intended for use by non-technical users and provide intuitive features and options. It makes everyday tasks like sending messages, setting up group chats, sharing documents, and organizing meetings very easy.
Is Cerkl Broadcast an easy-to-use employee communication platform?
Cerkl Broadcast offers a no-code employee communication solution that is very easy to use. Implementation is easy and the platform doesn't require maintenance. It simplifies employee engagement. Whether employees are desk-based or deskless, you can provide constant,  inclusive communication.