Corporate social responsibility (CSR) is a leading trend in the 2023 business world. In essence, it considers the impact organizations have on society, the environment, their employees, and other stakeholders. But, as the Green Business Bureau says, to succeed, CSR initiatives must be part of a more holistic and long-term sustainability strategy. It also requires coordinated support and effective communication from the organization's leadership.
Societal impact, focusing on creating positive or meaningful change, has become a major issue for those considering new jobs. According to the 2023 Edelman Trust Barometer Report, "having a societal impact is a strong expectation or deal breaker" for 69% of people globally considering new jobs. The percentage is even higher in the U.S. where 72% are influenced by societal impact. And as business landscapes evolve to become more socially conscious, the way companies communicate their values, goals, and hard-won milestones must also transform.
Statistics compiled by the Harvard Business School are equally telling, with 93% of employees saying companies must lead with purpose. A slightly lower 88% believe it's not acceptable for companies to make money at the expense of society as a whole. This indicates that organizations must not only develop CSR initiatives but must also ensure employees are aware of them – which brings us back to all-important communication.
We are going to delve into the concept of sustainability communication, examine how to integrate it into broader corporate communication strategies and see how it can align with sustainable development goals. We'll examine how companies can engage employees in their sustainability efforts. Finally, we'll focus on the process of measuring and reporting progress, and the vital role it plays in sustaining momentum towards achieving sustainability goals.
What is Sustainable Communication?
Sustainable communication, also known as green or sustainability communication, involves the strategic dissemination of information and actions related to an organization's sustainability goals, initiatives, and performance. The term encapsulates a wide range of communication mediums, from formal sustainability reports and Environmental, Social, and Governance (ESG) communication to social media messages that emphasize a clear goal regarding sustainability commitments and social bonds.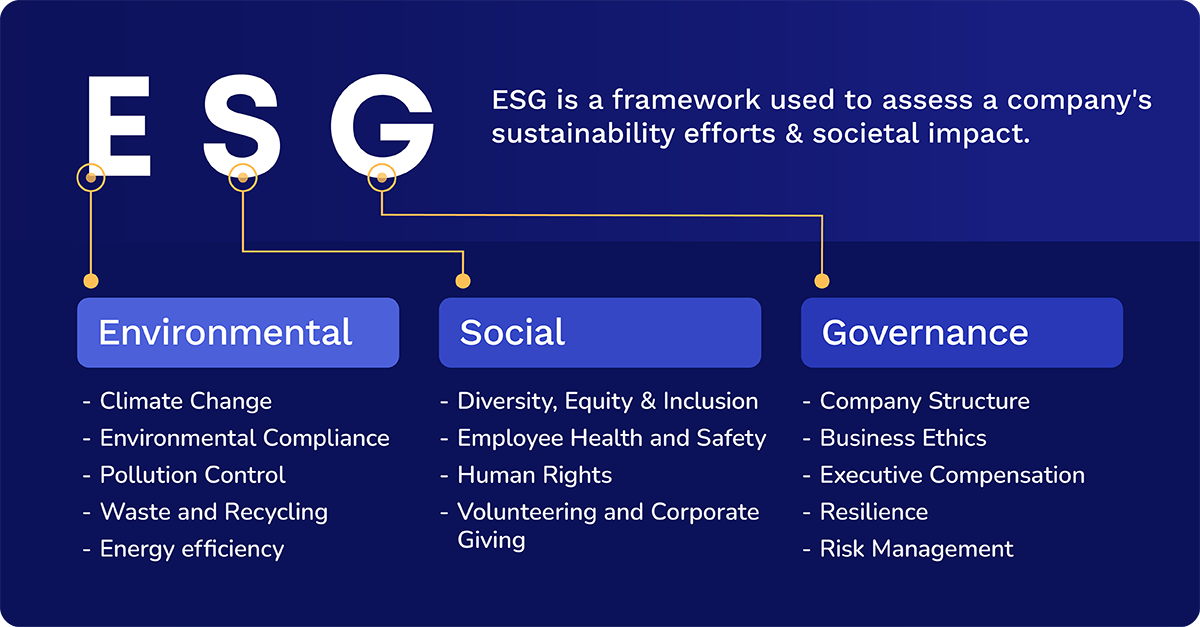 In the face of climate change, good sustainability communication helps organizations effectively share their proactive measures. These include shifts towards sustainable finance or employing a sustainability strategy for a sustainable corporate culture. Good sustainability communication also helps to debunk myths, clarify green claims, and aid in the attainment of sustainable development goals.
"For CSR initiatives to work, they need effective communication and coordinated support from top-level executive management right down to the core workforce."

Jane Courtnell, Green Business Bureau
Integrating Sustainability into Your Communication Strategy
With the significant rise of sustainability and corporate responsibility amongst consumers and stakeholder priorities, private equity firms and businesses are integrating sustainability into their communication strategies. This approach is essential for promoting transparency, garnering trust, and fostering more sustainable behavior.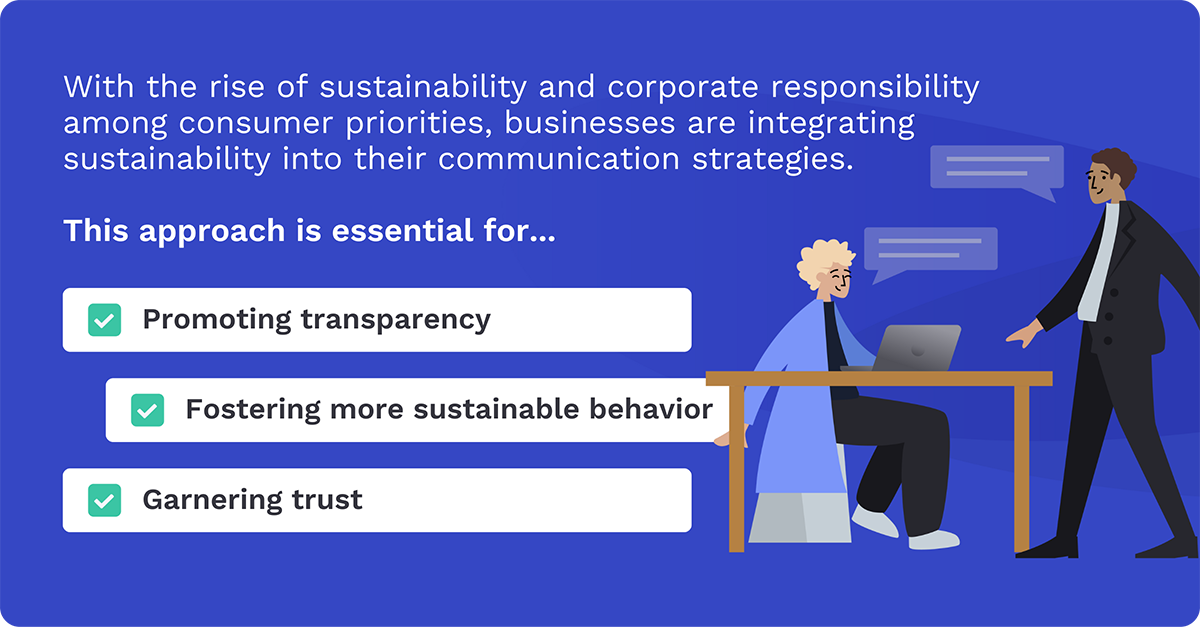 By adopting a comprehensive sustainability communication strategy, businesses can effectively communicate their ESG strategy and progress. Additionally, transparency about sustainability goals can be a key differentiator in urban living and lifestyle domains such as fashion, food, and fitness, where consumers' growing awareness of climate change underpins buying decisions.
But there's still a long way to go.
According to Gallagher's global State of the Sector 2022/23 report, 36% of the survey respondents said they don't communicate their ESG goals internally. Only 26% inform employees about their ESG activities and commitments. Furthermore, only 11% said that sustainability was a topic they had communicated to employees over the past year.
Aligning with Sustainable Development Goals
In 2015, the United Nations introduced the Sustainable Development Goals (SDGs) – a universal call to action aimed at ending poverty, improving health and education, combating climate change, and promoting prosperity while protecting the environment. Businesses worldwide are increasingly aligning their sustainability strategies with these goals, reinforcing their commitment to responsible communication and actions.
Achieving alignment with SDGs implies practicing good sustainability communication by disclosing environmental impacts, supply chain sustainability, and actions toward sustainable development. This commitment clarifies to stakeholders and customers that the business doesn't simply make green claims but actively works towards substantial change.
As the world grapples with navigating the path to sustainability amid a myriad of challenges, sustainable communication emerges as a key influencer in shaping opinion, driving change, and promoting sustainable living.
Sustainability Efforts
The global shift towards a sustainable future has necessitated that businesses reassess not just their supply chain but their entire operations. But what does it mean to be sustainable? Business sustainability has three dimensions that demand developing processes that are environmentally friendly, economically viable, and socially equitable.
When sustainable development is successful, it integrates these three elements to create a balanced approach to growth. For instance, a company might choose to modify its manufacturing process to reduce greenhouse gas emissions, ensuring the longevity of our planet while also creating jobs and supporting local economies. This is a perfect blend of sustainable corporate culture that balances economy, environment, and society, giving rise to the opportunity for good sustainability communication.
Showcasing Your Company's Sustainability Efforts
In an era of social media and an information-driven society, showcasing your sustainability efforts effectively is of utmost importance. An annual sustainability report is a great way for companies to demonstrate their commitment to sustainability and an effective ESG strategy. This report should provide clear, accountable communication about the company's sustainability actions, achievements, and the progress of its sustainability initiatives.
Supply chain sustainability is another aspect that can significantly determine a company's sustainability efforts. The United Nations has underlined the significance of sustainable supply chains, advocating for businesses to ensure responsible sourcing and minimize their environmental footprint. Businesses that prioritize supply chain sustainability are not just acting responsibly but also setting a perfect example of sustainable communication by showing commitment to their sustainability goals and transparency.
Communicating Progress Towards Sustainable Development
Communicating progress made towards sustainable development is as crucial as implementing sustainability measures. ESG communication is an essential aspect of this communication. This includes disclosing ESG-related risks, showcasing measures to mitigate these risks, and highlighting the resultant benefits. For instance, a company can demonstrate the actions it's taken to combat climate change or how it's leveraging sustainable finance for its development projects.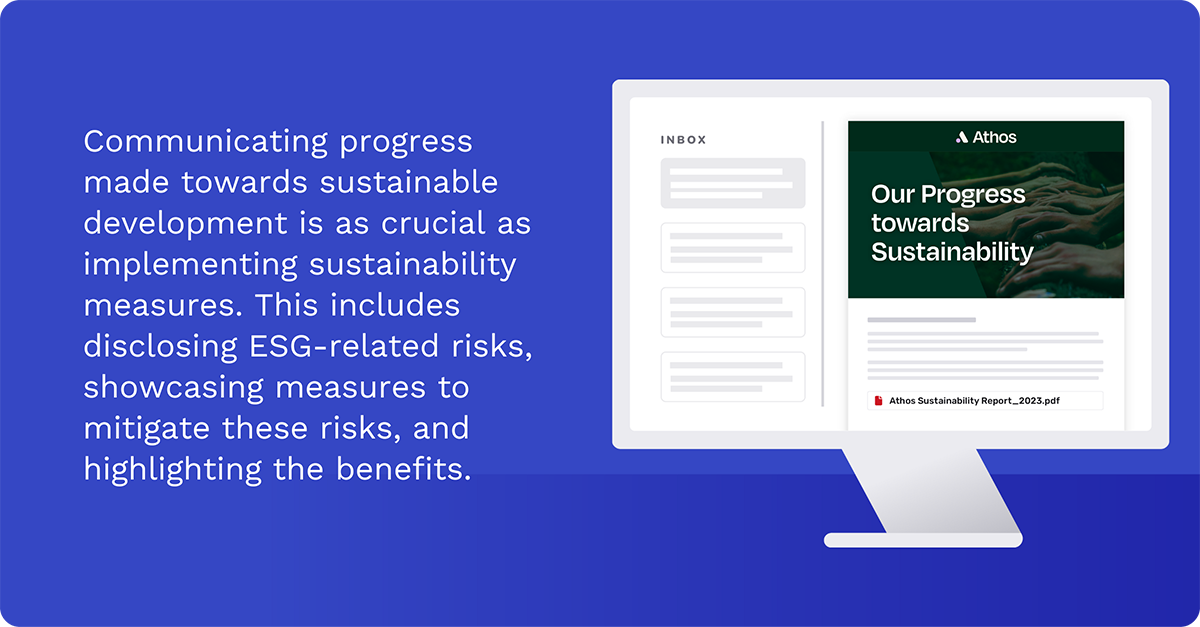 Most importantly, with any sustainability strategy, communications must be authentic, clear, and concise. Misleading or vague communications can damage a brand's integrity and lose consumer trust.
Employee Engagement in Sustainability Communication
Good sustainability communication begins on the inside, with employees as key stakeholders. Employee engagement through sustainability communication is a critical step in achieving sustainability goals.
Businesses can motivate their staff to live sustainably both at home and in the workplace through educational campaigns about climate change and other related topics. Social media can also be a powerful tool to reach all employees regardless of their geographic location.
Moreover, businesses can make their green claims clearer and authenticate them by providing thorough and regular updates on internal sustainability reports.
Foster a Culture of Sustainability
Building a culture of sustainability in a company or organization typically begins with good leadership. CEOs can lead by example by adopting personal practices that promote sustainability.
Offices can opt for energy-saving lights, recycle waste, and encourage carpooling, thus promoting urban living and sustainable development.
Additionally, the inclusion of sustainability roles and responsibilities in job descriptions, as well as in performance evaluations, can reiterate the organization's commitment to sustainable corporate culture.
Sustainable Development at the Workplace
Many companies are now incorporating sustainability strategies at their workplaces to meet their sustainability commitments. Moreover, over 75% of millennials examine a company's social and environmental obligations, when applying for a job.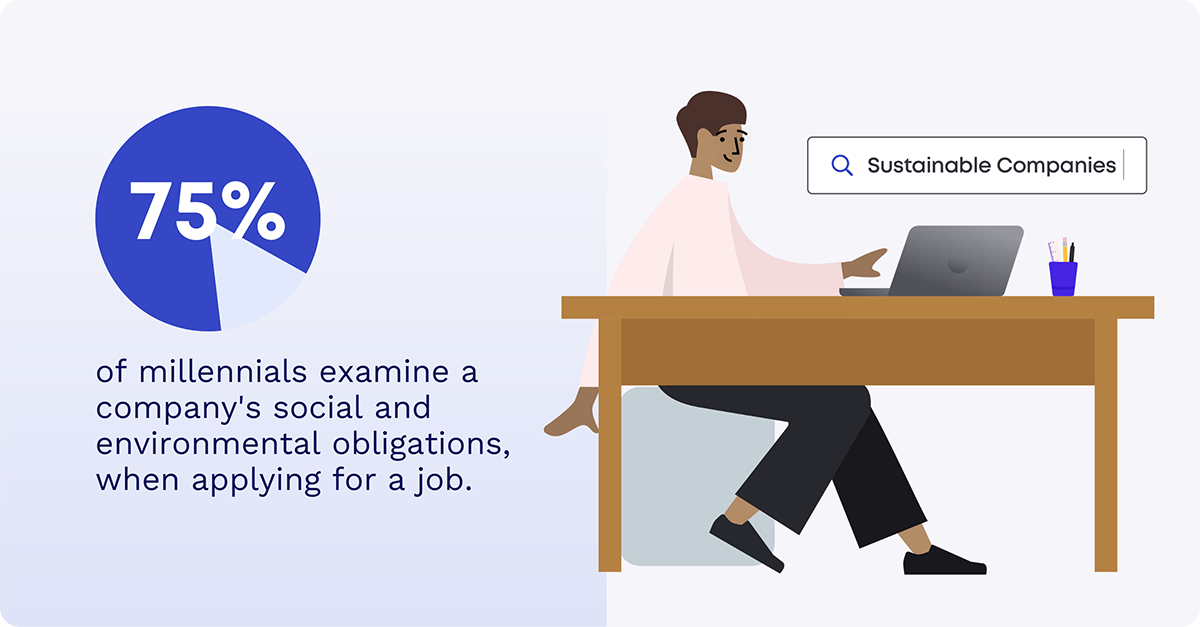 Whether it's through implementing a paperless policy or installing solar panels to supply power, every step will bolster the company's image as a responsible entity.
Measuring and Reporting Progress
It's extremely important to measure and report the performance of a sustainability strategy.
First of all, for any sustainability strategy to be successful, it needs to include comprehensive sustainability communications metrics. This could be the number of employees engaged in sustainability initiatives, the amount of waste reduced, or energy saved.
The key is to ensure that these targets are specific, measurable, achievable, relevant, and time-bound (SMART). This kind of approach helps to measure progress and adjust the strategy where necessary.
Reporting on your company's sustainability goals will make the results of your sustainability strategy public. This can act as a key motivator for businesses. Comprehensive and regular sustainability reports outlining progress, setbacks, and future plans can be instrumental in driving a company's green campaign. They can also give stakeholders an overview of the company's sustainability status and initiatives.
Irrespective of the results, reporting is a crucial part of sustainability communication and contributes to the overall ESG communication strategy of a company.
Find Opportunities to Boost Your Sustainability Strategy
Cerkl Broadcast has a great internal communication platform that you can use to boost your sustainability strategy. For instance, you can use our Email Blasts or customize your own employee newsletters.
Broadcast's omnichannel capability is a particularly effective option. A great benefit is that you can let your employees select the channels they prefer to use.
It also makes sense to choose your opportunities in terms of when you boost your strategy and encourage employees to participate. There are four great options in November every year all of which encourage CSR:
World Kindness Day on November 13 encourages us to highlight good deeds and be kind to each other regardless of differences.
America Recycles Day on November 15 is recognized nationally, aiming to raise awareness of the importance of recycling.
International Day for Tolerance, adopted by the United Nations 70 years ago, draws attention to the negative aspects of intolerance. It is celebrated on November 16 every year.
Giving Tuesday on November 28 simply encourages everyone throughout the world to "give, collaborate, and celebrate generosity."
What's Next?
Every form of communication, including sustainable communication, needs to be well-prepared. Cerkl Broadcast offers a platform that will enable you to do this at the highest level. We are here to guide, advise, and support you.
FAQ
What is sustainable communication?
Sustainable communication involves transparently and effectively conveying information about sustainability. The aim is to promote responsible business practices and demonstrate a commitment to long-term sustainability goals.
What is the role of sustainability communication?
Sustainability communication plays a crucial role in promoting sustainability as a core business value. It also encourages positive change within organizations and society as a whole.
How to communicate sustainability?
There are many ways that we can communicate sustainability. Internally, we can publish sustainability reports, newsletters, and annual reports. Externally, we can include sustainability efforts in social media, press releases, and marketing and advertising initiatives.
What is an example of a sustainability message?
A sustainability message might state that the company is committed to reducing its carbon footprint, minimizing waste, and supporting local communities through sustainable practices.