Internal communication underscores all the essential aspects of an organization's functionality, from employee engagement to goal alignment and achievement. It is a measure of how effectively we can turn human potential into business results.
But recent research by Gallagher shows that 71% of companies lack a long-term internal communication strategy. It also shows that 60% of internal communicators focus on communication plans for specific campaigns, rather than devising broader strategies.
Additionally, recent research by Grammarly and The Harris Poll shows that while organizations are communicating more than ever before, the effectiveness and quality of communication have declined in the past year. At the same time, a staggering 93% of business leaders acknowledge that they depend on how well collaborators communicate to enhance productivity.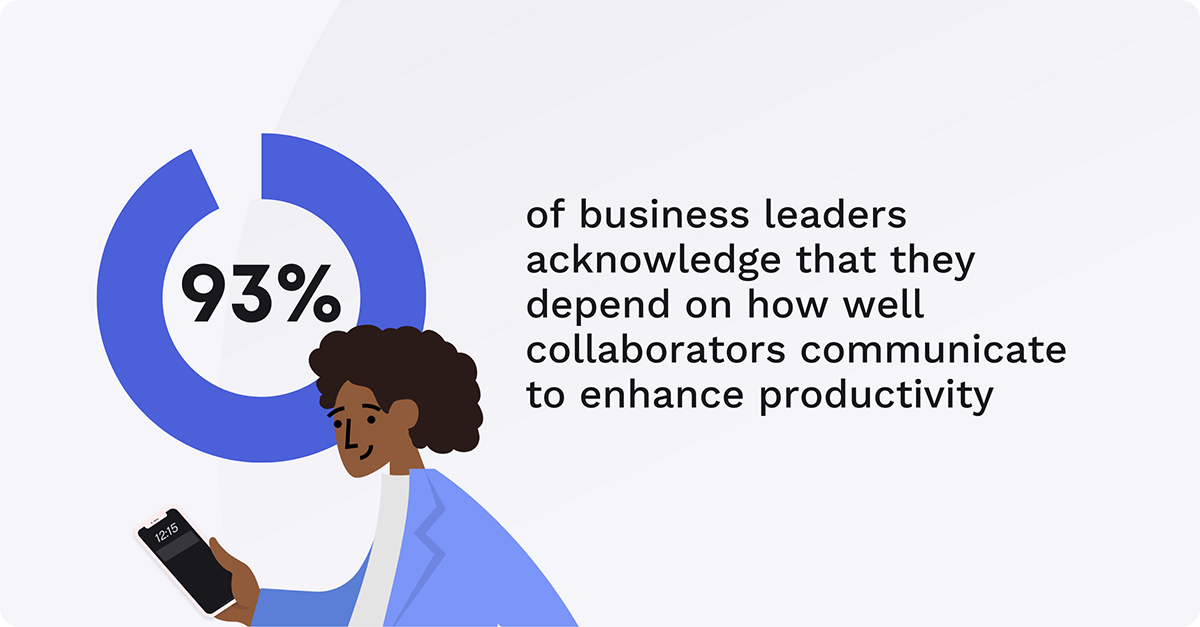 The report states that "leaders who assume miscommunication is not a challenge in their organizations will incur avoidable costs." But those who "prioritize communication as a business imperative and act now to strategically invest in communication solutions will unlock significant value across their organization."
This is why, in the world of organizational development, the importance of a robust and well-thought-out internal communication strategy cannot be over-emphasized.
This article is designed to guide readers through the process of understanding, creating, implementing, and monitoring effective internal communication strategies, including the best practices and solutions to potential challenges.
The Importance of Internal Communication
Internal communication involves the exchange of messages and information within an organization. For a business to thrive, it needs to foster a culture where conversations flow freely across all levels. It's not a one-way street. While the role of internal communicators is vital, it's important for employees to be part of the process. They need to be empowered to provide feedback that business leaders can respond to and act upon.
Effective internal communication also ensures that information is disseminated accurately and promptly, mitigating the chances of miscommunications or misinformation.
As mentioned above, The Harris Poll and Grammarly 2023 The State of Business Communication: The Path to Productivity, Performance, and Profit report indicates that organizations are spending more time communicating. Specifically, research stats show that it's risen 9% since 2021. But the quality of communication — particularly written communication — has dropped 12%. Even more disconcerting is that 15% more business leaders report that productivity has decreased since 2021. It also shows that businesses run on communication, which is why it's crucial to productivity.
Their inaugural 2022 State of Business Communication: The Backbone of Business Is Broken reports that 96% of business leaders agreed effective communication is essential for delivering expected business results. However, 74% said their organization underestimates the cost of poor communication. The research also shows that up to $1,2 trillion ($12,506 per employee) is lost annually because of poor communication.
The 2023 report shows that slightly fewer (93%) business leaders rely on effective communication, and the high cost of poor communication persists.
Of course, internal communication also drives alignment, engagement, and collaboration among employees, thereby improving overall productivity. That is very important as, according to Gallup's 10th (most recent) employment engagement meta-analysis, highly engaged teams experience 23% higher profitability and 18% higher productivity in terms of sales.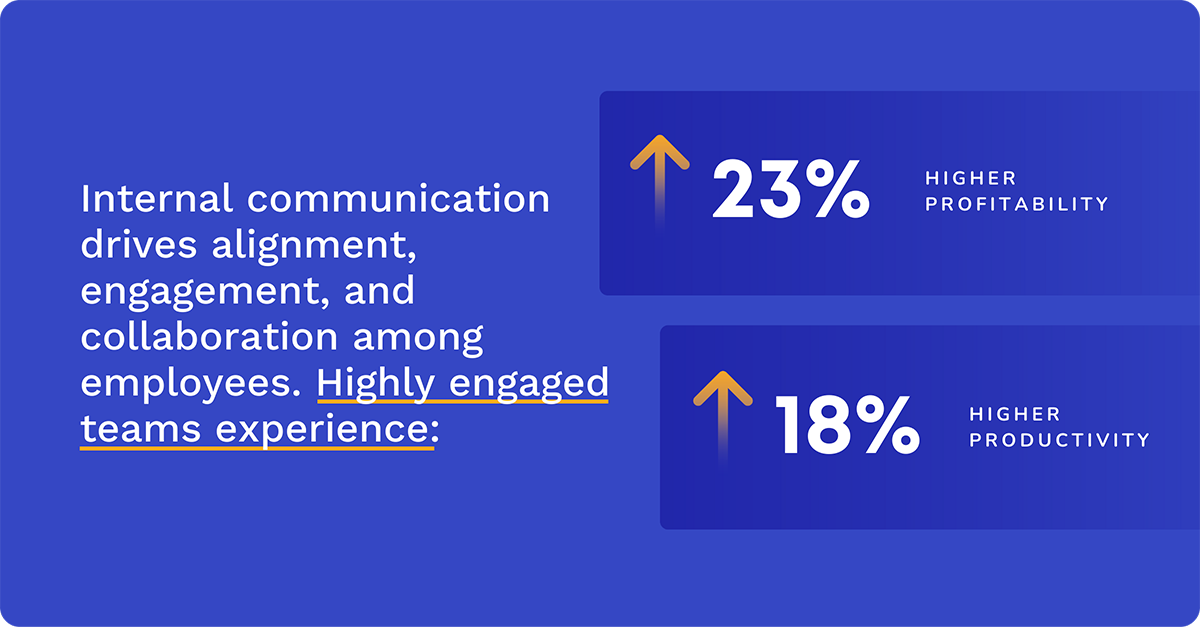 The Necessity of an Internal Communication Strategy
In today's fast-paced and dynamic work landscape, a formal, well-planned internal communication strategy is becoming increasingly necessary. It helps to articulate the internal communication goals of an organization and outlines the tools, channels, and processes needed to achieve them.
Siobhan Hammond, head of Communication and Change communication Consulting practice at Gallagher acknowledges that it's difficult to keep a strategic mindset. But she says it's essential to have a long-term communication strategy. Referring to Gallagher's State of the Sector 2022/23 Internal Communication and Employee Experience survey, she says that only 29% of organizations have "an overarching internal communication strategy" covering more than a year in place. Furthermore, 60% of communication professionals focus on specific initiatives and campaigns rather than creating an effective communication strategy.
During October-November 2022, Gallagher asked respondents to identify their three top priorities for 2023. The results show that engaging teams around purpose, strategy, and values remain paramount for more than half (51%) of them. Developing or refreshing a strategy for internal communication is the priority for 35%. But the need to adapt this strategy to accommodate hybrid workers dropped significantly to only 19% from 39% in the 2021/22 survey.
Ultimately, an effective strategy includes not only an approval process for internal communication content but also incorporates provisions to measure the strategy's success.
What Is an Internal Communication Strategy?
As Hammond says, internal communication strategies are often seen as the same thing as an internal communication plan. But it's very different.
A plan is a detailed document that describes how communications can be leveraged to achieve a specified goal.
A strategy, on the the hand, serves as the backbone of a company's corporate communications. Simplistically, a strategy is a detailed plan that outlines how an organization will communicate within its structure. It is responsible for streamlining effective communication among different tiers of an organization. It focuses on employee engagement, effective project management, and most importantly, ensuring a strong company culture. An effective internal comms strategy will have a significant impact on a company's success. It ensures that information flows seamlessly from executives to frontline workers who deal directly with customers and remote employees.
The internal comms strategy goes beyond daily communication. It provides clarity, fosters a sense of belonging, boosts morale, and increases productivity by establishing clear communication goals and objectives. In addition, it forms a significant part of a company's crisis management or end-critical event management operation.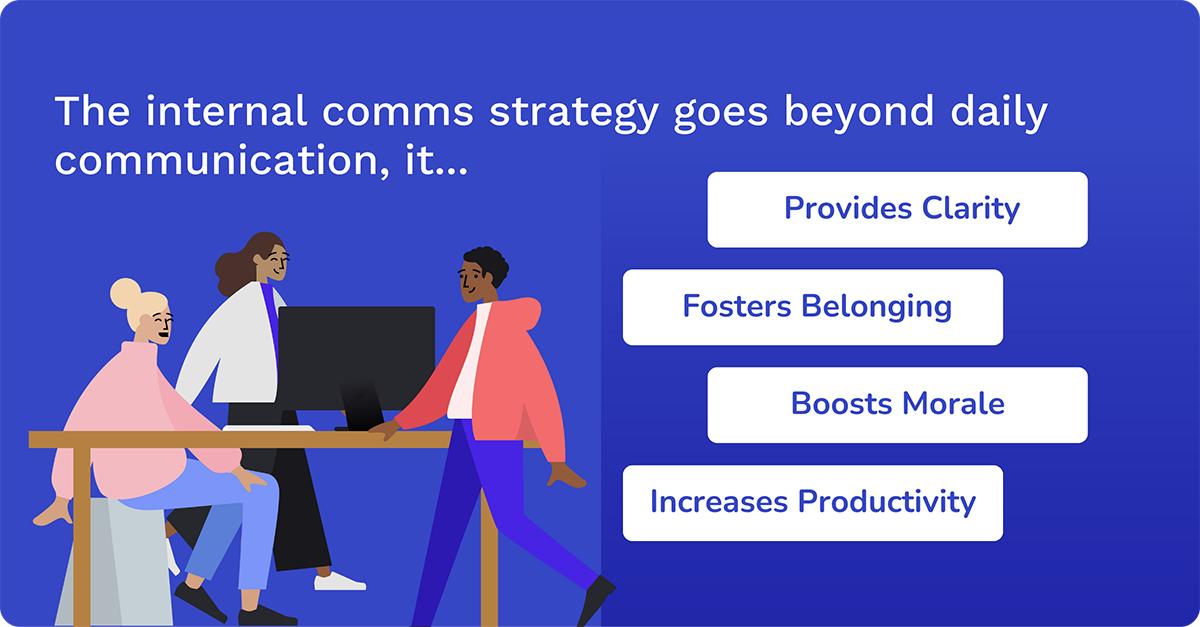 It encompasses a detailed set of processes intended to foster a positive working environment and a dedicated, efficient workforce. And it has a bunch of benefits that you can achieve by:
Enhancing strategic alignment by clearly articulating how your internal communication function contributes to your organization's strategic objectives.
Establishing a focused operational plan that outlines resource allocation and deliverables to be achieved within specified timeframes.
Getting endorsements from leadership through a well-defined proposal that can be shared with internal stakeholders and utilized to build a compelling business case for investments.
Providing a roadmap that outlines what will be accomplished, when, and by whom, setting clear expectations for the future.
Informing and engaging employees about purpose and direction, enabling them to align their efforts with strategic goals.
Key Components of a Successful Internal Communication Strategy
The content of a strategy for internal communication forms the foundation for a robust internal comms program. This program should include various elements including social media usage, blog posts, use of communication tools, and even the age-old (digital or printed) company newsletter. Whether you're incorporating a new approval process or focusing on employee advocacy, communications content becomes the channel for a wide, effective transmission of initiatives.
With the increase in remote work, an internal communications strategy should focus on solutions for engaging employees that are suitable for both physical and virtual workplaces. It should also include processes to engage remote workers and foster communication and collaboration. Collaboration tools should always be a featured resource in any successful internal comms plan.
Privacy Policies
A successful internal communication strategy needs to pay special attention to privacy policies and ensure it is aligned with the specifics outlined in the company's policy. It's an aspect that often goes unnoticed, but it plays a paramount role given the current focus on data security.
Need to Assess Effectiveness
Assessing the effectiveness of your communication strategy is essential. This is enabled through social shares, surveys, focus groups, and a whole lot of other interactive options. Feedback tools help internal communicators to understand employees' attitudes toward the company culture and the effectiveness of current internal communication initiatives.
Focus on Leadership
Leading an integrated internal communication initiative involves a comprehensive yet detailed approach that can blend traditional communication channels with technology.
An effective internal communication strategy should also be backed by strong management support. Managers need to understand the importance of internal comms and actively promote it. After all, they're responsible for achieving communication goals and a strong company culture, and their buy-in could make a substantive difference in how the strategy is perceived and implemented.
Above all, remember that a winning strategy must be continually refined and optimized. As market dynamics change and organizations evolve, so should your communications strategy. Stay alert, seek feedback, be ready to adapt, and most importantly, keep all channels of communication wide open.
How to Build the Foundation
A compelling internal comms strategy will form the backbone of your corporate communications and help to create a strong company culture. It is crucial to understand and develop an internal communication definition before setting up the groundwork. For the majority of companies, this means using a variety of communication tools and methodologies to ensure there will be effective communication throughout the organization.
An intuitive branded internal comms app or versatile platform can play a significant role in enhancing internal communication. By implementing an internal communication program supported by software, companies can streamline project management, foster employee engagement, and ultimately cultivate a winning company culture.
For remote workers, communication tools such as a social intranet can help establish a wide communication framework. When building the foundation, remember the current situation may require adjustments to facilitate communication for both on-site and remote employees.
Identify Your Communication Objectives
All successful internal communication strategies begin by identifying clear communication goals. For instance, an organization may want to revamp its internal communication content for better clarity or boost social shares and employee advocacy.
Another objective may be simplifying the approval process for internal communication initiatives. Providing featured resources online and explaining your organization's privacy policy is another crucial objective to consider. Essentially, the objectives must align with your broader communications strategy.
Analyze Your Current Internal Communication Practices
Before you can build an effective internal communication strategy, you need to analyze your current internal communication practices. This involves a thorough review of existing communication channels and tools, and reviewing their functionality, adaptability, and user experience.
Assess your current situation honestly by taking tangible data into account. Be sure to include the findings of surveys, feedback given, and anything that relates to how engaged your employees are.
This analysis is especially important when it involves frontline workers who often face unique communication challenges. Moreover, your current practices also hold the key to unlocking the potential of collaboration tools and other assets for leading integrated internal communication approaches.
Gather Stakeholder Input and Feedback
Once the foundation for your internal comms strategy is set, along with clear goals, the next step is to gather stakeholder input and feedback. Hold focus groups or send surveys to identify employees' perceptions of your internal communication plan and its effectiveness.
By involving stakeholders from the beginning, you can ensure your communications strategy is not only accepted but also embraced by employees. This engagement solution is critical for the success of any internal communications initiatives.
Set Clear Goals for Your Internal Communication Strategy
When you have gathered sufficient data and feedback, the next important task is to set clear, measurable goals for your new internal communication strategy. A helpful tool for this task is a template that can help to formulate effective internal communication initiatives.
An internal communications strategy example would be if your analysis identifies that your company newsletter is not being read, one of your goals might be to increase open and read rates by improving the content, relevancy, and delivery method.
At this stage, planning a comprehensive plan for the delivery of your internal communication content and improving existing practices is critical. By using the right communication channels and execution plan, an organization can engage employees positively and foster a meaningful company culture.
Implementing Your Internal Communications Strategy
Implementing an internal communication strategy is crucial in today's era of increased remote work and the widespread use of a bevy of communication tools. Having a strong internal communication plan can improve the degree to which employees are engaged. However, creating an effective internal communication strategy requires foresight, clear communication goals, and an understanding of your team's needs.
Whether you're drafting a company newsletter or launching a new branded internal comms app, it is vital to ensure that your internal communications content resonates with your employees.
A well-planned internal communication strategy is not merely about social shares or focusing on the approval process. It can guide your journey from planning through to measuring outcomes and assist with project management. Understanding the internal communication definition will facilitate a holistic view and is bound to produce more effective results.
Rolling Out Your New Communications Strategy
When it's time to roll out your new strategy for internal comms, it's essential to have a well-defined plan of action. Continue to engage your employees by taking feedback onboard via focus groups, social media, or an internal communications app. Whether adjusting to the current situation or setting a strategy for a wide communication platform, concentrate on adopting methods that encourage interaction and collaboration.
But here's an important caveat. Your updated communications strategy shouldn't disrupt the company's ongoing project management efforts. Instead, it should complement them. Even in the program's infant stages, the emphasis must lie on proactive, clear, and inclusively targeted communications that stretch from frontline workers to the management team.
Employee Training and Awareness
Once you roll out your new internal communications initiatives, employee training, and awareness programs will be crucial. Ensure that your employees are well-versed in the new communication channels you've introduced. Training sessions should encourage employee advocacy and foster that sense of company culture that is indispensable for the long-term success of these strategies.
An effective internal communication strategy should also take into account the privacy policy and corporate communications norms of the company. This is a vital step towards avoiding any communication gaps and mitigating any potential issues that might relate to the inappropriate use of communication tools.
Monitoring and Measuring Success
With your internal communication program implemented and the employee engagement solution in place, it's time to monitor and measure success. Use analytics from your internal comms platform or conduct surveys to gather employee feedback. This data will provide clear indicators of whether your internal communication plan is working. It will also offer insights into areas of potential improvement and help to formulate future strategies.
In addition, it's a good idea to invite suggestions from your team about the company's communication strategy, tools, and other areas they believe need improvement. Remember, effective communication is a two-way process, and your employees' input is invaluable when it comes to refining and enhancing internal comms.
Making Necessary Adjustments
Fresh off the back of monitoring, you'll need to make some adjustments to your internal communications initiatives. You might have to revamp your internal communication plan, upgrade your tools, or adopt different communication channels based on your team's feedback. This step is not merely about leading integrated internal communications, it's also about ensuring end-critical event management.
Keep in mind that effectiveness in internal communications is not always a handy one-size-fits-all solution. The scenario can often call for tailored, varying approaches based on the need of the hour, the issues at hand, and the specific demographics of your team. Proactively adjusting and refining your communications strategy is key to maintaining a flourishing employee communication solution.
The Role of an Internal Communications Plan
An internal communication plan serves as a powerful tool to help companies align their strategy and culture. It is central to effective internal communication and plays a critical role when it comes to crafting an internal communication strategy. By establishing an internal communications program, companies can ensure a consistent flow of information among all employees. For businesses that cater to remote work, the need for a clearly defined internal communications strategy is even more critical.
The strategic use of social media, the company newsletter, and a branded internal comms app can significantly boost employee engagement. This strategically structured communication can even help drive social shares and enhance the overall company visibility.
But, as Heidi Green states in a Forbes article, the role of internal communicators is difficult. Internal communicators need to ensure that all comms are truthful, transparent, and honest. At the same time, communications executives need to "nurture the company culture."
Defining Target Audiences and Segmentation
Defining the target audience for your internal communications content is crucial. It includes employees across all levels from frontline workers to project management and executives. Each category of employee necessitates a different internal communication method. By segmenting employees, you can reach wider communication goals and impart crucial information more effectively.
Using focus groups and behavioral data can also create an insightful internal communication policy. This detailed analysis will help you understand current situations, predict future trends, and design communications accordingly.
Selecting the Right Communication Channels
Choosing appropriate communication channels plays a vital role in the success of any internal comms strategy. When it comes to remote workers, digital channels including internal communications apps are very effective. For employees working on site, a mix of digital, verbal, and printed materials usually works best.
Decision-based segmentation is also necessary here. For example, frontline workers might prefer direct communications like emails or text alerts, whereas a project manager would respond better to a more detailed approach.
Crafting the Messaging Framework
The way you compose your messaging can dramatically affect the effectiveness of an internal communications strategy. The messaging framework should align with the company culture and values. Corporate communication messages need to be clear, precise, and meaningful.
The approval process for these messages is also of utmost importance. To avoid any miscommunication, all messages should pass through a rigorous validation procedure that ensures accuracy and is appropriate.
Aligning with Organizational Values and Goals
Emails, newsletters, blog posts, or social shares — whatever internal communication tools you use — should be aligned with the organization's values and goals. This alignment can play a significant role in reinforcing the company's culture and values, boosting the employees' morale, and enhancing their engagement levels.
One must remember that effective communication within an organization is not a one-time initiative. It needs to be constantly nurtured and new challenges and changes need to be accommodated. A successful internal comms strategy is fully capable of achieving this.
Also, it must adhere to privacy policies, and critical event management procedures, and incorporate resources for continuous improvement, further accentuating its importance.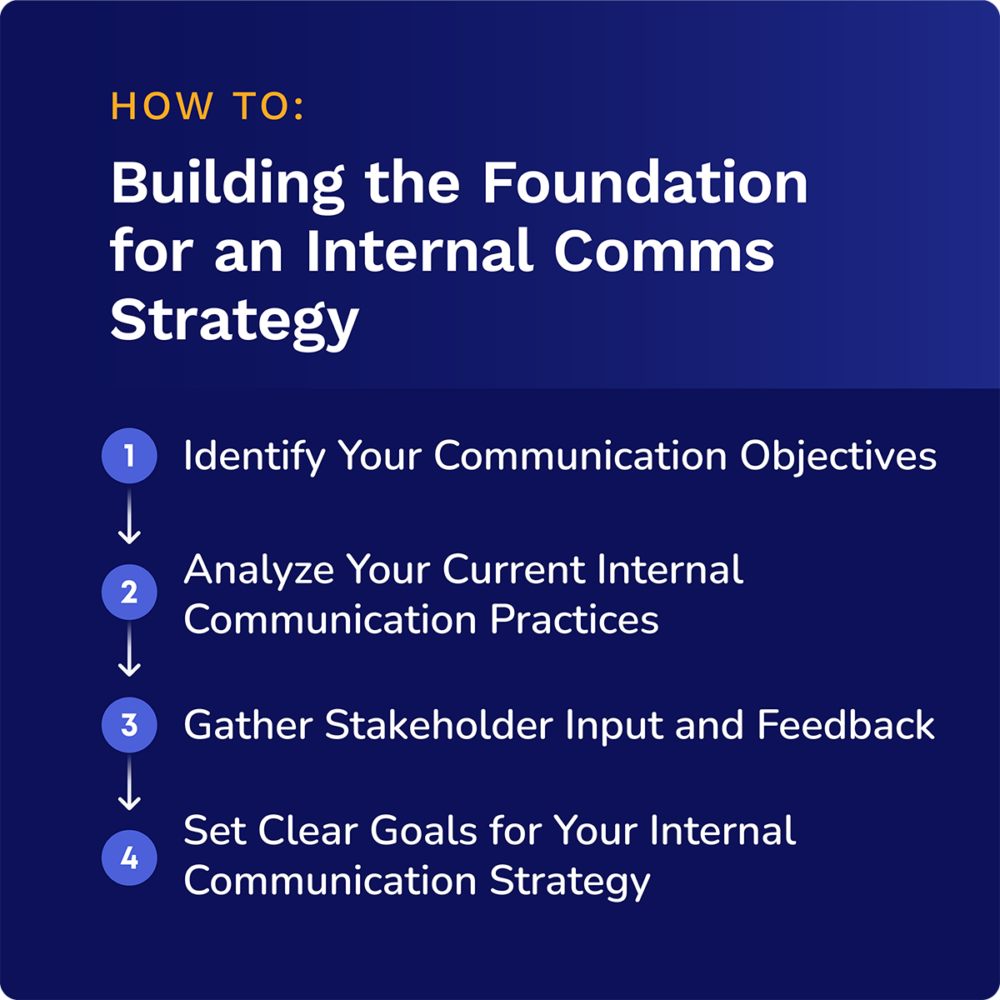 Best Practices and Tips for Effective Internal Communications Strategy
For any corporate communication strategy to thrive, it must be underpinned by fundamental principles. It goes beyond merely creating an internal communication plan. Rather, it involves crafting a strategic approach that can foster a strong company culture.
A timeless corporate strategy integrates a viable internal communications program and leverages communication tools like a company newsletter and social media platforms for wider communication.
It is vitally important that the internal comms strategy accounts for both office-based and remote workers. Remote work has become an essential part of business operations since the pandemic outbreak, and the need for communication channels that engage remote workers is vital.
When utilized effectively, critical event management will ensure that employees are updated about anything that might affect the running of the company. This is a reliable mark of effective internal communication. In addition, a privacy policy must be in place to protect employees' rights together with their information.
Effective Strategies for Boosting Employee Engagement
Creating an effective internal communications strategy begins with understanding your unique corporate communications needs. Focus groups from different departments can provide invaluable input toward designing comprehensive communication goals. This will put you on a reliable path to launching successful internal communications initiatives and promoting employee advocacy.
Another strategy to boost employee engagement is tailored content that meets the needs of employees. Strategic internal communications content can increase social shares and increase engagement across the board.
In addition, ensuring that feedback mechanisms are integrated into the internal communications plan is crucial for continued engagement with employees. This can foster a sense of belonging among employees and promote positive company culture very effectively.
Maximize the Impact of Your Internal Communications
For an internal communications strategy to have a lasting impact, it must be flexible enough to adapt to the evolving needs of the employees and the company. This should involve the regular review and updating of the internal communication strategy template to match prevailing circumstances. A project management approach to the strategy can also help in regularly monitoring and adapting the strategy to maximize its impact.
The internal communications content needs to be engaging, informative, and accessible through various devices. Engaging content, however it is shared, can dramatically improve internal comms and boost employee engagement. Furthermore, featuring resources like explainer videos, infographics, and podcasts can make the content much more attractive and relatable.
An open and transparent approval process is also integral for maximizing the impact of internal communications. Employees should feel that their voices and opinions are valued and incorporated into the company's decisions. This inclusive approach will foster better engagement along with a strong company culture.
Overcoming Common Challenges in Implementing Strategies
Internal communications strategies often face resistance from employees and issues like lack of resources. To win the trust of employees, it's vital to communicate the benefits of these strategies effectively. The use of leading integrated internal communications tools will also help to avoid resource-related challenges.
Organizations should also ensure they have an effective internal communication strategy that resonates with frontline workers. Frontline and remote workers often feel disconnected from the rest of the organization. However, effective communication strategies can bridge this gap and foster wider engagement.
Also, the alignment of a good internal communications strategy with larger business goals is another key to overcoming implementation challenges. This alignment ensures that everyone understands how the strategy contributes to the larger business objectives and increases ownership and acceptance.
Remember, every functioning corporate strategy is built on effective communication. Well prepared and implemented, your strategy will enable you to achieve maximum impact using minimum effort. Ultimately, it will empower you to focus on what matters most, adding value to your organization.
Optimize Your Strategy with Cerkl Broadcast
Cerkl Broadcast has designed a highly effective internal communication software platform designed to accommodate any sized organization. It enables internal communicators to access and manage information using a powerful omnichannel capability. Employees can select their preferred channels and access your comms wherever they are at any particular time.
Additionally, Broadcast has many impressive features that further improve efficiency. These include content scheduling, customizable templates, custom dashboards, and feedback and analytics tools. You can also segment your audience using the platform so you can target those employees specific communications are aimed at. Additionally, you can sync it with payroll, HRIS, or any other system without needing to use code.
What's Next?
How effective is your internal communication strategy? Do you even have a strategy in place? The Cerkl Broadcast platform offers great solutions with invaluable tools and we're here to help you maximize their performance.
FAQ
What is an internal communication strategy?
This is a plan that outlines how an organization will effectively communicate with its employees. It includes goals, targeted messages, communication channels, responsibilities, and evaluation methods to ensure that employees are well-informed, engaged, and aligned with the company's objectives.
How do you develop an internal communication strategy?
Developing a strategy of this kind involves defining objectives, tailoring messages for different audiences, selecting communication tools, assigning responsibilities, and continually assessing its effectiveness.
What is an example of an internal communication channel strategy?
A good example would be to use a combination of team meetings, an intranet platform, and email updates to ensure regular, consistent information-sharing within the organization.
What is the purpose of the internal communications strategy?
The purpose of an internal communications strategy is to ensure that information is effectively disseminated within an organization. It also fosters alignment, engagement, and understanding among employees and supports the achievement of organizational goals and objectives.