Employee retention in healthcare is suffering. Stunted nurse retention rates have caused a large shortage of nurses. In their 2023 Healthcare Retention Report, Nursing Solutions Inc saw the registered nurse (RN) vacancy rate sit at 17% nationally, an all-time high since 2019. They also found that it takes an average of 95 days to recruit one experienced RN in 2023, eight days more than in the prior year. All of which is tied to healthcare communications.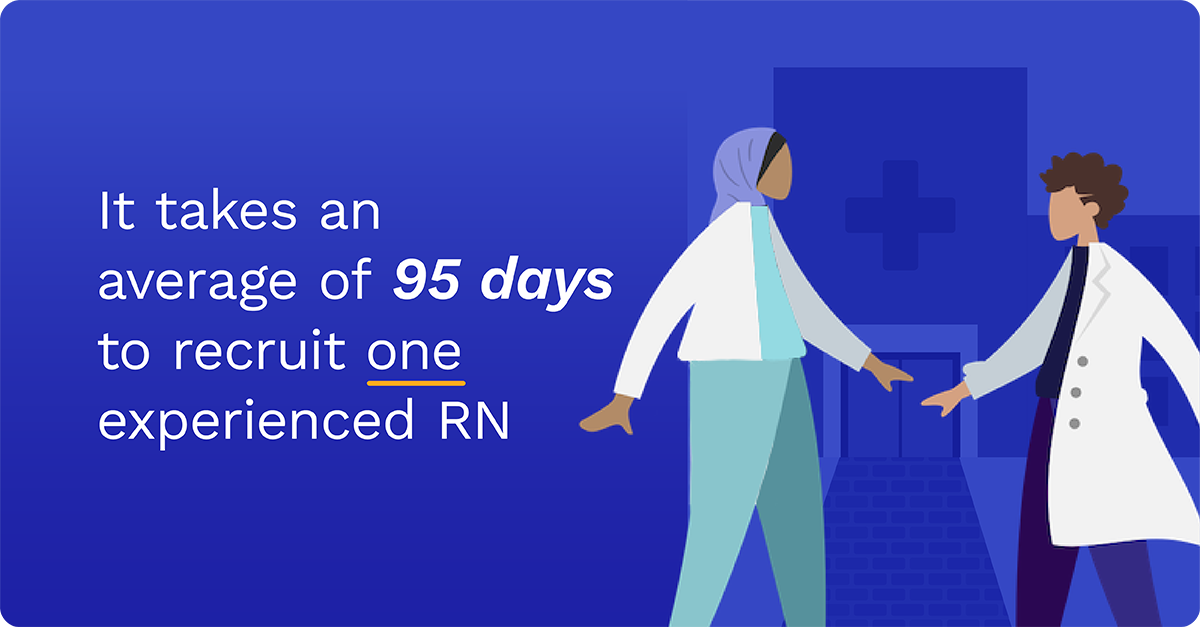 Think this might not be affecting your institution? Think again: Mental Health America found that 76% of healthcare workers feel burnt out. Additionally, McKinsey research found that in March of 2023, over 40% of RNs intend to quit – a significant rise from 35% in the fall of 2022.
Simply put, there are not enough nurses. The fewer RNs there are, the more they have to work. The more they work, the more burnt out they get. This continuous feedback loop puts a strain on the entire organization: healthcare quality decreases on a personal scale and costs increase on a larger scale. This includes vacant positions, recruiting, training, and employees taking on additional responsibilities.
Addressing this issue of employee retention in healthcare requires better internal healthcare communications and its strong relationship to employee engagement. Personalization in communication plays a critical part in improving engagement and nurse retention rates. Furthermore, if employees have a mobile app that personalizes content just for them, it will make it easier to engage. Overall, it has a positive impact on the quality of patient care and the integrity of the organization.
Factors Affecting Nurse Retention
It is clear that nurses feel overworked, underpaid, and not appreciated. This year alone, nearly 1.7 million healthcare workers have quit according to the Bureau of Labor Statistics. A pre-pandemic study from the U.S. Department of Health and Human Services projected that the demand for registered nurses would hit more than 3.6 million by the year 2030.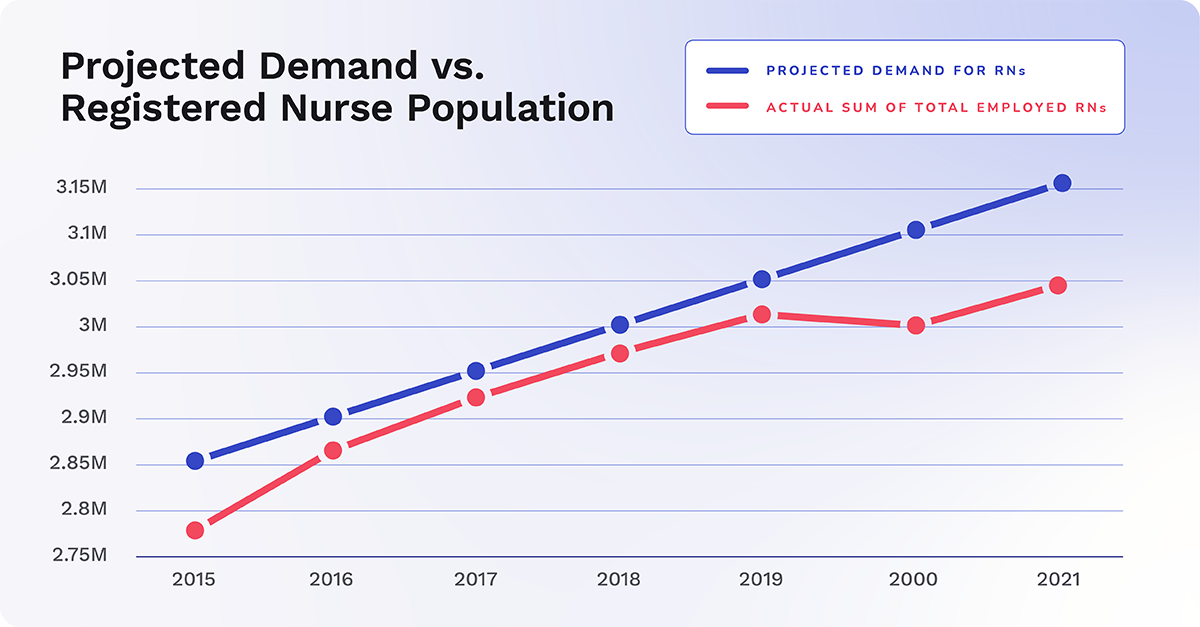 Burnout and stress levels are continuously influencing the shortage of healthcare workers. McKinsey found some of the main reasons that RNs are leaving their jobs are:
Not being valued by the organization
No work-life balance
No sense of belonging
Not engaged by work
But what executives may not realize is that they can implement direct solutions that relieve organizational stress.
Employee Engagement Benefits
Functional and personal internal communication is an investment that can support employees, aid better management, and provide resources.
When employers provide opportunities for meaningful communication and value employee input, they are more likely to feel satisfied with their job and less likely to seek work elsewhere. It builds a positive environment that fosters open communication and trust. Encouraging open communication increases awareness and engagement. As a result, they will find how they fit into the organization by engaging in the decision-making process, says Walden University.
Building a sense of community through internal healthcare communications also matters. The American Nurse Official Journal says that it's crucial because many spend as much time with their family as they do at work and for others, it is their only community. A strong sense of community can make a huge difference in keeping nurses and promoting employee retention in healthcare.
With the increase in traveling care and round-the-clock care, many nurses want ways to connect with their team even when they're not in the same place. The community aspect of internal communication increases morale and engagement which can affect nurse retention positively.
Some organizations like Novant are taking a community-focused approach and successfully reaching nurses -their target audience – through segments. They often send blasts and content sharing news of local team wins, announcements, events, and more; all of which would be "need to know" information. But with technology-driven personalization, they also see the content that they want to know about. They are building a sense of belonging as a nurse while being informative.
Clear and concise healthcare communications channels between professionals can improve coordination and collaboration. Just like Novant, this is where communication gets personal; nurses get the communication they need from the channels and attributes they have. Then, they receive the communication in a way that works for them. It requires the highest level of personalization – content specifically tailored to the individual.
Therefore, healthcare organizations should prioritize effective communication strategies that promote employee engagement and efficient, personal communication channels. Improved communication among healthcare professionals can lead to more engagement, higher job satisfaction, and nurse retention rates.
Asynchronous Healthcare Communications
In healthcare, verbal communication has been identified as the main communication channel, but it is disruptive in nature. Especially when clinical teams get larger, the number of possible conversations increases significantly.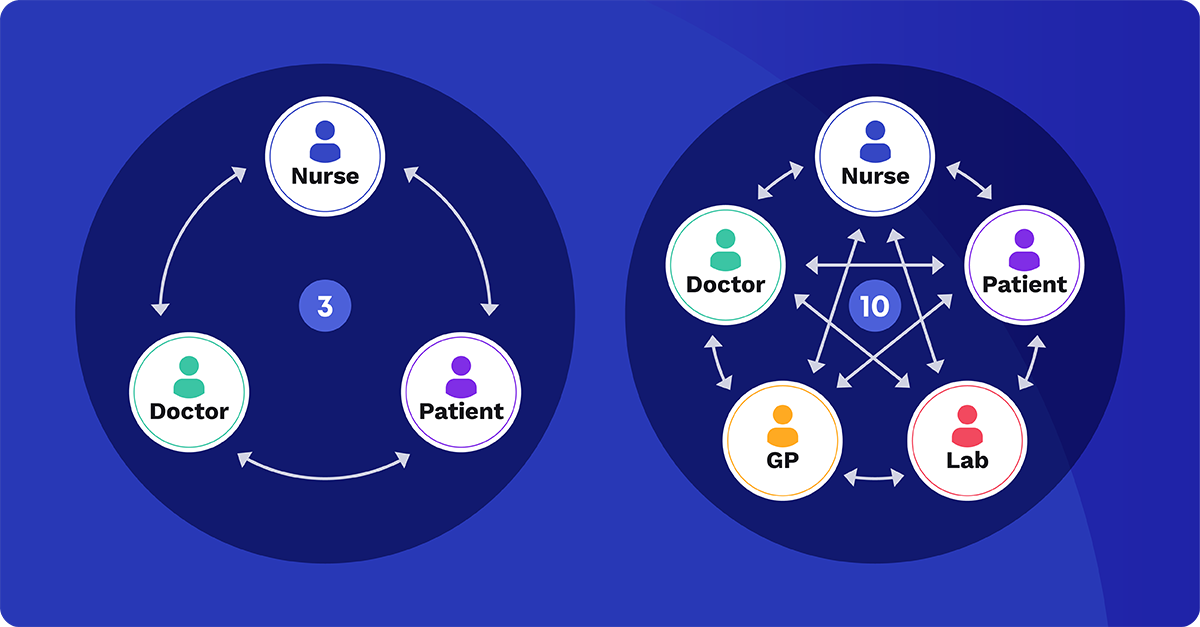 In a journal article by the Clinical Biochemist Reviews, communication failures cause poor outcomes and about 50% of all adverse events were associated with communication difficulties.
If nurses are being interrupted constantly by verbal communication, then they have to constantly stop what they are doing, deal with the interruption, and then go back to their initial task. The same article says that "suspending tasks and then returning to them imposes a cognitive load, and may result in tasks being forgotten, or left incomplete."
There is a very specific problem that nurses have to deal with. Rarely are they at a desk checking their email. Instead, they are on their feet attending to all of their tasks, which means that they don't have the time to see even high-quality communication if it's in an email; they aren't receiving them in a way that lets them digest it during working hours.
Instead, employee mobile app communication allows them to access asynchronous, personalized content in a direct way. This streamlines healthcare communications and can reduce inefficiencies and increase effective collaboration. Nurses and healthcare workers can deliver better care and outcomes while avoiding interruption and irrelevant information, ensuring critical information is delivered in real-time.
Nurses can consume technology-based communications—messages that they care about and have an interest in. Just like Netflix, communication is tailored based on interest. The information they receive is what aligns with each interest and attribute.
This is the essence of great communication; it's personalized for each individual. The app generates content for people based on different nurse specializations, different interests, different locations, and more.
Not only do they provide important knowledge, but if you choose the right topics then you can improve engagement with them through click-thru and open rates. These topics are specific to the healthcare industry.
If their jobs are going well and they have better support and feel like they are giving high-quality care, then they have more of a reason to stay at their job and increase employee retention in healthcare. Having an effective internal communication platform makes nurses' jobs easier.
Supporting Healthcare Communications Strategies
Healthcare organizations can implement other various strategies to improve healthcare communications and support nurse retention rates.
One effective approach is to provide ongoing training and development opportunities for nurses to improve their communication skills. This training can include communication techniques for different patient populations, conflict resolution, and effective collaboration with other healthcare professionals.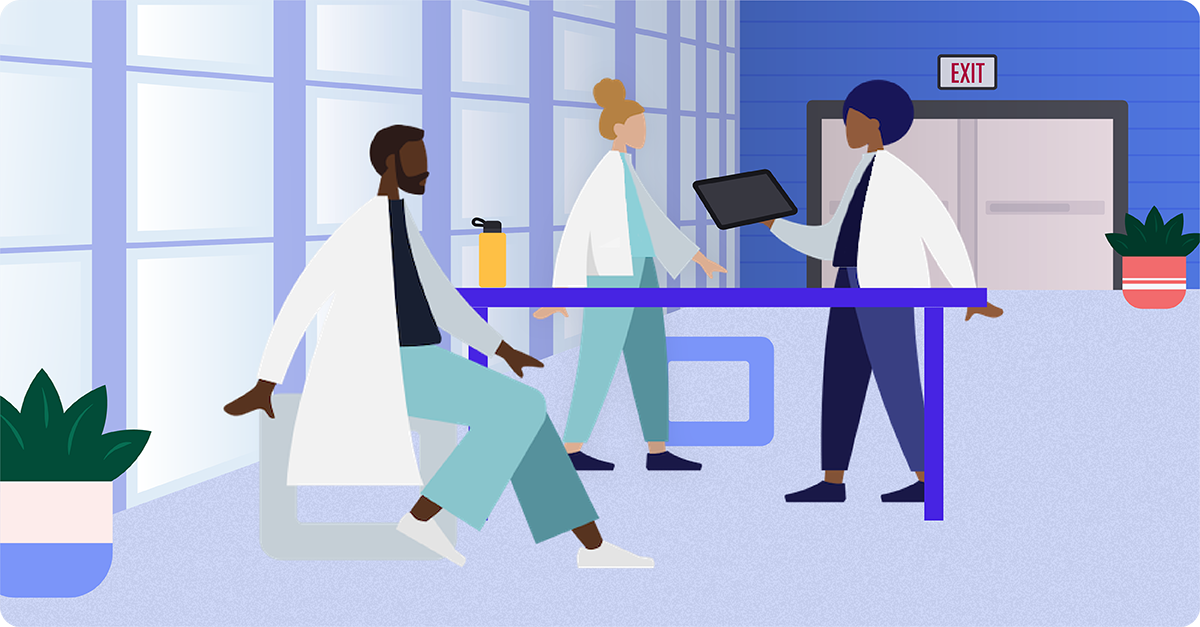 Additionally, healthcare organizations can provide regular feedback and support to nurses to help them improve their communication skills and ensure that they feel valued and supported which also contributes to nurse retention.
Conclusion
It is important to see nurse retention not just as an individual issue, but as an organizational one. Yes, nursing staff are quitting because of poor management, resources, and more, but are the people managing them doing anything about it?
Internal communication is an investment that pays off from the happiness of employees to the happiness in addition to the successes and goals of the C-suite. Employee retention in healthcare is a national issue, but it is not impossible to resolve. Give nurses the tools to succeed with an employee app that has personalization technology, and it will make the work more meaningful.
What's Next?
We've compiled over 4.5 million data points from Cerkl's healthcare clients to provide you with the most successful content, statistics, and audits you need to make your internal healthcare communications thrive. Get useful insights on how to increase nurse retention, and save your healthcare organization from the labor shortage.