We know how important it is to get your message to the right audience. A robust and precisely targeted audience lies at the heart of any modern communication strategy. Recently, our clients shared their need for enhanced control to safely accommodate additional platform users with us. Our clients are finding a lot of value in our product but wanted the ability to add interdepartmental communicators to the platform while controlling the level of access each user has. In response, we've embarked on a mission to bolster our Audience Management capabilities. We augmented and enhanced our existing segment permissions and audience manager permissions. The result is an extensive update designed to put more power in your hands and create spaces appropriate for each user.
We now offer a complete, personalized set of permissions to enable our communicators to create the right mix for their team and security posture. This post takes a close look at the update and the solutions it provides to you and your communications team.
What's New
Access Levels: You can now choose between Global and Restricted Access Levels for your Segments. Global Segments are accessible to any team member, while Restricted Segments are available to the creator, all administrators, and anyone they are shared with. This fine-grained control allows admins to grant specific segment permissions to users, reducing the risk of incorrect audience sends.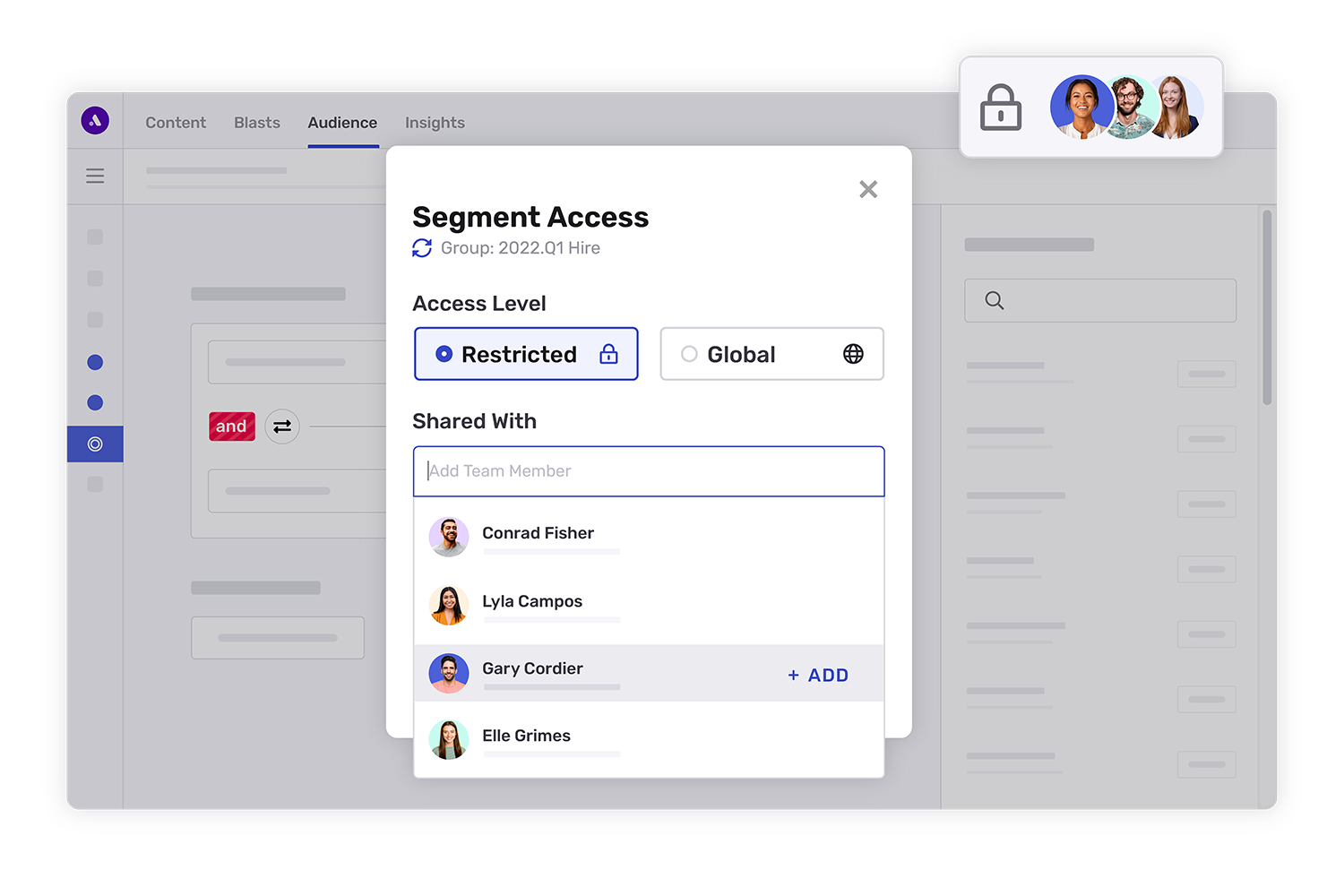 You can access these permissions through Audience > Segments > Access Level.
Segment Organization: Managing multiple users and Segments can sometimes be overwhelming, especially with large communications teams. That's why we've revamped the Segments table. It's now neatly organized into: My Segments, Shared with Me, and Global. My Segments represent those you've created, Shared with Me includes Restricted Segments shared with you or those created by other team members (if you're an admin), and Global comprises Segments available to all team members. This structured layout simplifies your Segments management and makes it easier to find the segments you need.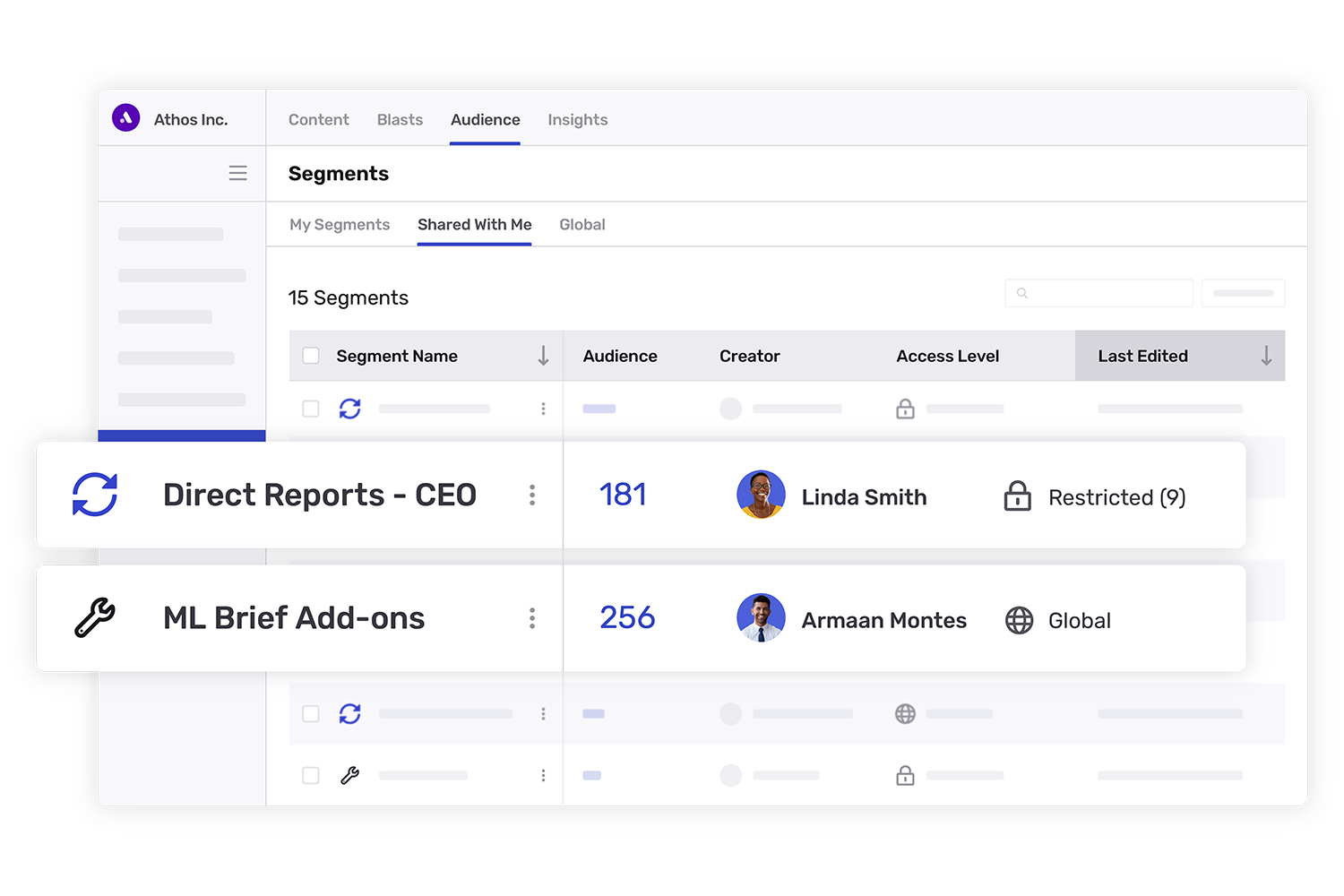 To explore these improvements, visit: Audience > Segments.
Enhanced Blast Targeting: We've introduced the Audience Builder, a fresh and intuitive way to target your Email Blasts effectively. This feature provides you with enhanced visibility into the Segments you're using to create your audience, making the process more streamlined. This enhancement allows team members to quickly search for and gain more context around segments and interests they can use to alter their Blast audience. It also shows a limited view based on the Segments they have access to. This addition makes it easier for users to find their desired audience for Blasts. Also, it reduces the possibility of a Blast being sent to the wrong audience.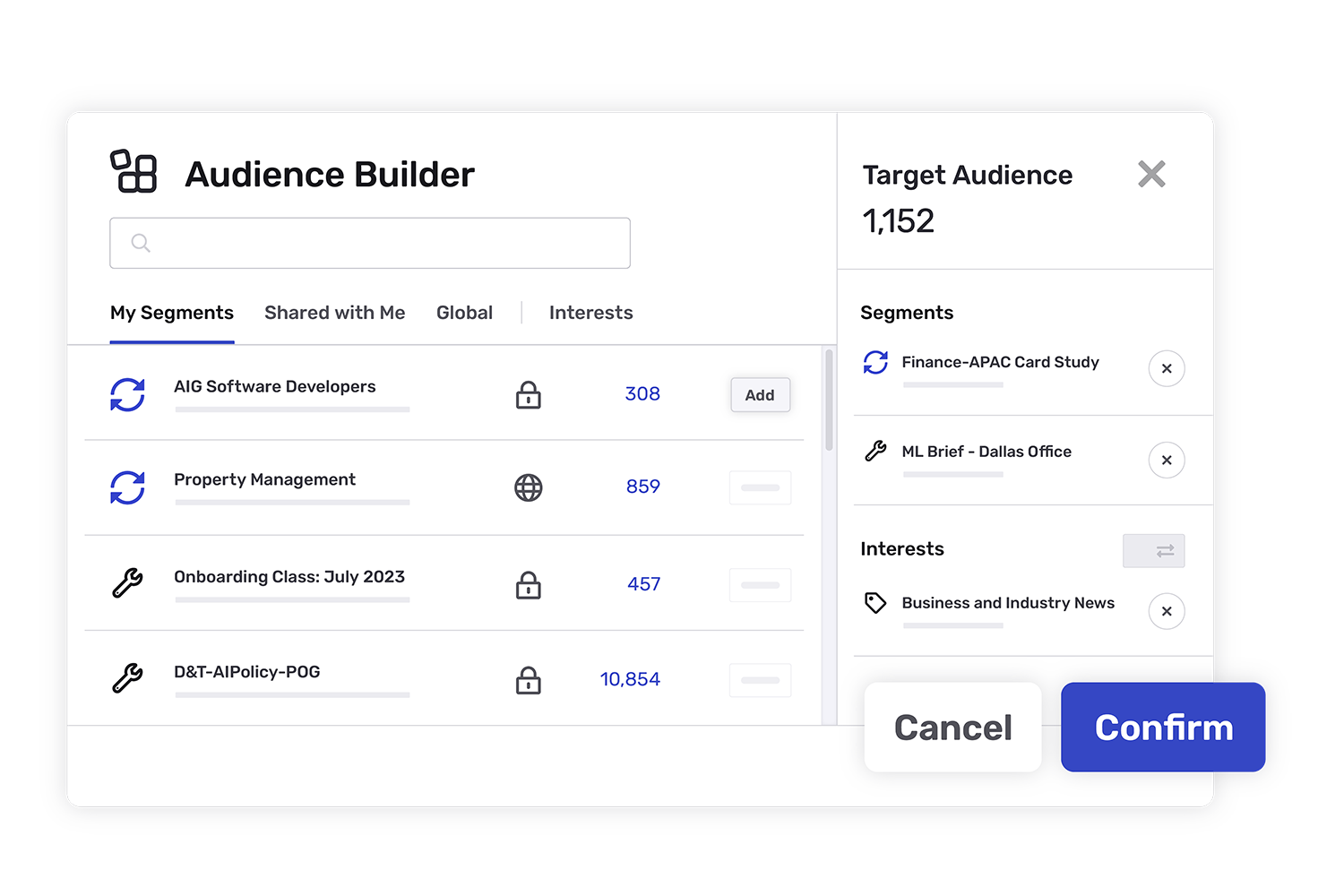 The way to access the Audience Builder is via: Blasts > Editor > Audience > Audience Builder.
See this update in action in the video below:
Prior Enhancements
In case you missed them, here's a quick recap of some of our previous enhancements:
Blast Controls: We've introduced a new Blast Control that allows admins to disable the ability to send a Blast to everyone, avoiding accidental mass communications.
Audience Control: With the new Audience Control, team members can't add new Audience Members outside of your integration, maintaining data integrity.
Segment Details: We've expanded the information available in your Segments table, providing more data at your fingertips. Additionally, each team member can now customize the table layout to suit their needs.
View Audience Permission: Audience Manager and Segment Permissions offer you more control over who can modify your audience. When enabled, team members can view your audience but can't add people or create and edit Segments.
Improving Audience Management with Broadcast
With these updates, we aim to make audience management smoother and more secure than ever before. A special thanks to our customers who help us understand the challenges communicators face and how we can help. It's your feedback and trust that drive us forward, and we're committed to continuously improving your experience with Cerkl Broadcast.
Still, have questions about how to use these new capabilities? Check out our Help Desk article here! If you'd like to learn more about what Broadcast can do for you and your organization, we would love to speak with you. You can set up a time with a representative below.