Award-winning intranets prove that using an intranet to communicate with employees improves productivity, innovation, creativity, and teamwork. An intranet content management system (CMS) will also address the intrinsic needs for social interaction and a shared culture that remote employees often yearn for. 
Since 2001, the Delaware-based global UX research and consulting firm, Nielsen Norman Group (NN/g), has chosen the 10 best intranets of the year. Six of the winning 2023 organizations are in the U.S. The others are in Canada, India, Poland, and Singapore, they all signify popular intranet design and process trends. For instance, they all support the return to work as well as hybrid working. They also foster employee development and growth, and promote the use of utilizing AI effectively. Their common approach is to minimize the need for employees to leave the intranet and access additional resources and tools.
Announcing the winners, NN/g states that the 10 winners recognized the fundamental "needs and framed their intranets around fostering connection, collaboration, and authentic employee engagement." They also showed that an intranet isn't only a place for sharing news. It's become a place where employees can get work done without switching locations to access separate tools.
"Overall, the focus on connection and collaboration in 2023 was an opportunity to use the intranet to enhance productivity, satisfy social needs, foster professional growth, and contribute to a positive organizational culture."

NN/g
What to Expect from This Guide
A CMS intranet can significantly transform internal communication, collaboration, and workflow within a business. But understanding the key components and how to utilize them properly is crucial for any CMS intranet platform to be successful.
This comprehensive guide provides essential understanding and practical insight into CMS intranets in general. We have designed it to serve as a detailed roadmap to what a CMS intranet is and what it offers. Our aim is to help you choose the right platform to align with your business needs. We cover effective planning and implementation strategies, highlight the importance of security and compliance, as well as proficient content management. We also focus on the vital importance of fostering employee engagement and ensuring active collaboration with employees.
What is a CMS Intranet?
A Content Management System (CMS) Intranet is an internal communications network. It is designed to help companies manage content and share information within their organization. It is a critical tool that affects every aspect of internal communication and information flow. And it can include various forms of digital content including corporate news, employee directories, native video, and product documentation.
Intranet is considered to be one of the top preferred channels of communication. According to the The 2023 state of essential workplace communications report by Axios HQ, it is one of the top four communication channels. The report states it is used by 22% of organizations. Furthermore, it is superseded in use by ad hoc emails, used by 49% of organizations, meetings (36%), and recurring newsletters (25%). Other less-used, but nonetheless essential communications channels include text, video messages, chat tools, and podcasts.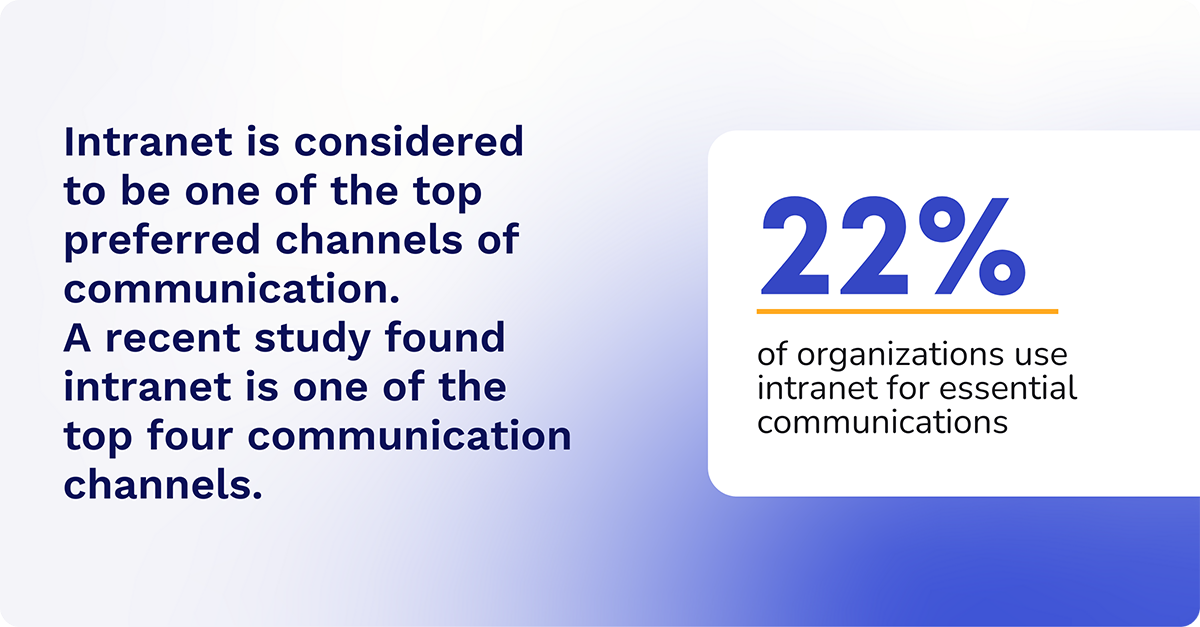 In its State of the Sector 2022/23 report, Gallagher states that intranets are considered as the top "self-serve" channels, especially in organizations with more than 500 employees. However, while usage is high (75%), only 58% rate the intranet channels as very or quite effective. Many respondents were critical of analytics, integration with other systems, and social functionalities.
Nowadays, having a good CMS intranet is essential for efficient knowledge management and seamlessly connecting employees across different areas and varied time zones. A CMS intranet can simplify document management, enhance user interface, and facilitate multiple communication channels within a business.
An Axios HQ post on communication channels employees want leaders to use, they highlight that an intranet can become a knowledge hub. Because they document processes and how teams work, they can be an invaluable source of historical insight and context. The caveat, though, is that it can be tough helping employees navigate a corporate intranet knowledge hub.
Key Features and Components
A modern CMS intranet is not just an internal network for employees. It should be packed with advanced features that enhance overall productivity and create an interactive working environment.
Some primary features include an intuitive user interface for the average user and push notifications for essential updates. There is a knowledge base for information sharing and an organized document management system. It makes sense to include any information relevant to helping employees understand. Thereafter, adjust to any changes introduced by management to the work environment.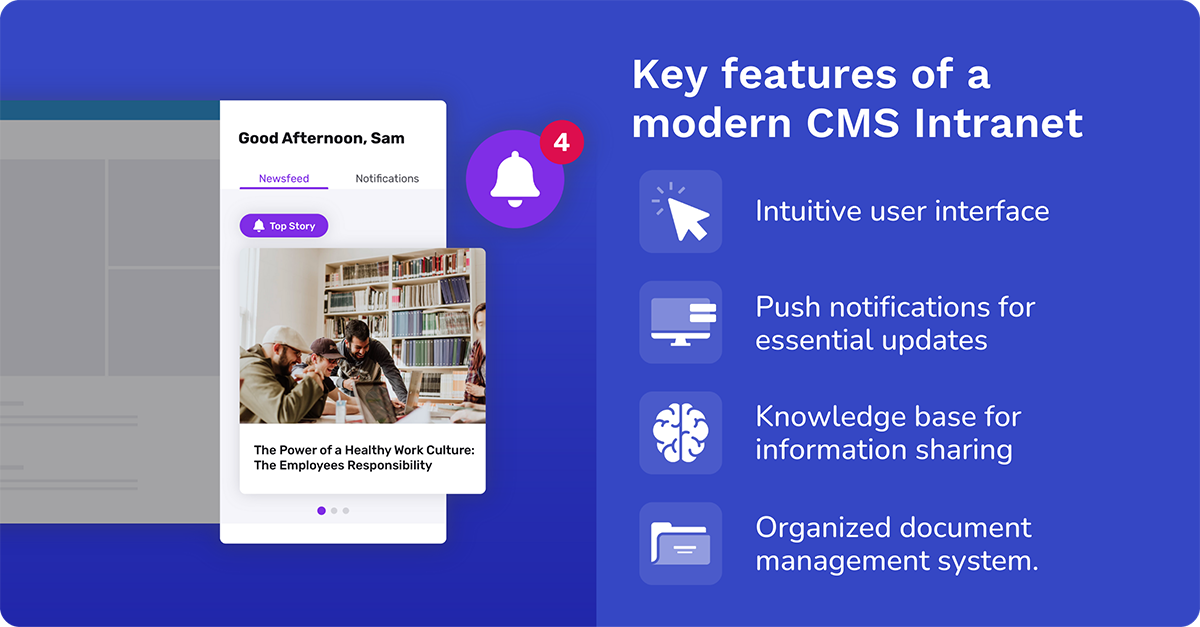 NN/g winners also used their intranets to update organizational police, provide guidelines and schedules, training materials, and the full spectrum of communication channels.
On the other side of the spectrum, many modern intranets offer a workplace news feed where employees can share their stories. These can include anything from favorite holiday experiences to positive customer feedback.
Benefits for Businesses
Organizations using a CMS intranet can expect a more streamlined internal communications process, more robust document and knowledge management, and more content management. This brings us back to the impact of internal communications per se.
According to The State of Business Communication 2023: The Path to Productivity, Performance, and Profit, 72% of business leaders believe that successful communication has boosted employee productivity, with 52% of knowledge workers indicating agreement.
With push notifications, vital corporate news and whitepapers can easily be shared with all employees. This ensures that everyone stays on the same page. An intranet content management system also promotes collaborative workspace. This means employees from different departments can share information and work together on projects.
Employee Engagement and Collaboration
While CMS intranets are primarily about managing content, they're also concerned with promoting employee engagement and collaboration – or they should be. Social features, internal networks, and multiple communication channels make the modern CMS intranet a digital workspace rather than just a content storage space.
Key findings of research by Gartner published in March 2022, show that the central role of an intranet lies in enhancing employee experience, providing support and engagement, and enabling a more adaptable future of work. It also shows that intranets serve as the shared base for a range of services across the broader digital workplace. This provides a platform to unify, merge, and enhance various digital workplace applications.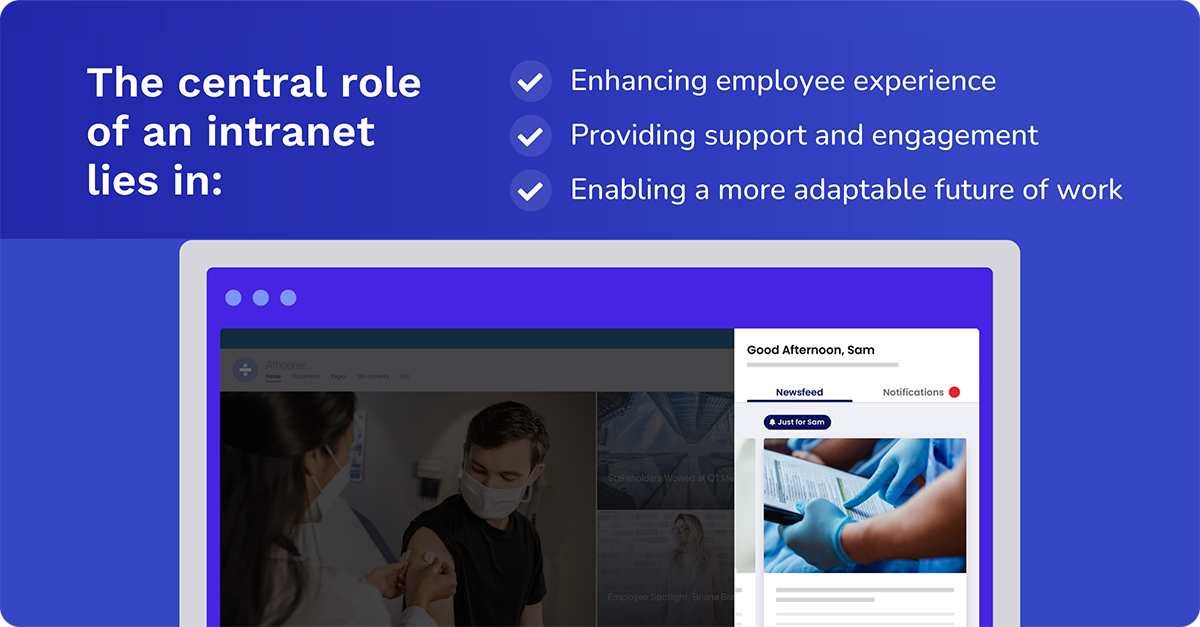 "Organizations recognize the intranet's various, distinct purposes, including employee engagement, employee services, application aggregation and access, knowledge management and collaboration. This is because each has its own business stakeholder, its own goals and motivations, its own measures of success."

Gartner
Building a Collaborative Culture
Employee engagement starts with the creation of a collaborative culture. There needs to be a platform for employees to interact freely — where they can share information, input suggestions, and ask questions. An intranet feed similar to a workplace news feed can enable colleagues to share their favorite holiday pictures, milestone achievements, team success stories, or even the latest corporate news.
Linkedin's The Official Guide to Employee Advocacy reports that companies with socially engaged employees are 58% more likely to attract top talent. At the same time, they are 20% more likely to retain these employees.
Employee directories and workplace social networks can foster this collaborative culture by connecting people from across the organization.
Social Features and Interaction
Simply having a space for collaboration isn't enough. A good CMS intranet also provides social features and encourages interaction. Users should be able to like, comment, share posts, or even tag a colleague. This not only makes the platform interactive but also ensures that important updates don't get lost in the information overload.
In 17 Top Communication Channels for Engaging Busy Employees David Grossman, CEO of The Grossman Group highlights company intranets as being a great place for gathering vital info and company news all in one accessible place. But he also advocates using intranet articles on team collaboration sites and social platforms like Chatter, Jive, Yammer, or Workplace.
Additionally, push notifications and email notifications can ensure users don't miss out on important discussions or updates. Those with technical skills can also utilize RSS feeds to create custom notifications.
Content Management Strategies
In the modern working environment, a good CMS intranet has become indispensable for effective internal communications. In a WhistleOut survey, 35% of respondents claimed that intermittently unreliable internet caused them to be unable to complete their work.
The best Content Management System is one that's intuitive, preferring a user interface that the average user can navigate easily. The goal here is to manage content in a way that enhances productivity and ensures a seamless flow of information.
There is a diverse range of CMS intranet solutions from the traditional CMS intranet to modern CMS intranet systems. While the former focuses mostly on document management and knowledge management, the game has changed for modern intranets. These go beyond just managing content and now include features like push notifications, CMS integration, and even native video.
Creating and Organizing Content
Creating and organizing digital content is a key aspect of content management. A white paper or corporate news should be easily accessible to employees, whether they're using SharePoint Online or another intranet CMS. Therefore, it's crucial to have a well-organized content structure that considers the unique requirements of your organization.
You can accomplish that by designing the user interface in a way that allows employees to have quick access to the most frequently used content. However, avoid cluttering it with too much information. Your navigation bar should never have more than seven options to maintain usability.
"Ensure that the information is logically organized and archived so team members don't need to waste time pulling up key documents at a moment's notice."

David Grossman
User Permissions and Access Control
A key aspect of any CMS intranet is ensuring the right people can access the right information at the right time. Incorrect permissions can lead to critical data falling into the wrong hands or employees not being able to find the information they need. This is where advanced user permissions and access controls play a vital role.
When you use a role-based CMS intranet, you can set permissions according to employees' job roles or departments. For example, the financial department can have access to sensitive corporate financial data, while product documentation is accessible to everyone. It ensures that employees can easily find and access the data they need to perform their tasks.
Choosing the Right CMS Intranet
Just like choosing any other suitable software for your business, finding the most compatible CMS intranet requires a careful evaluation of your business needs, the technical skills available, and the specific features you want in your intranet. There are a myriad of traditional CMS intranets, source-based CMS intranets, and modern CMS intranet platforms on the market, making the decision process more complex.
Assessing Business Needs
Before getting started with a CMS intranet, companies must evaluate their business needs, user requirements, and other critical factors including data security and compliance. Doing this can help them identify the exact type of intranet content management that will suit their business best.
The right CMS intranet should drive better internal communication, facilitate easier document and knowledge management, and should be easily used by the average user with minimum technical skills.
Considerations for Selection
When selecting a CMS intranet it is crucial to consider the user interface, the platform's ability to integrate with other systems being used in your workplace, the costs involved, the technical support required, and overall user reviews. A good CMS intranet should be simple, intuitive, and accessible, even to non-technical people. Above all, the chosen CMS intranet should enable the organization to achieve its content and knowledge management goals efficiently and effectively.
Popular CMS Intranet Platforms
Some popular platforms for CMS intranets include SharePoint Online, known for its user-friendly interface and extensive integration options. Others include Igloo, an intranet platform with robust internal communications tools such as employee directories and forums, and LumApps, known for integrating well with G Suite and providing comprehensive features like news feeds, directories, and communities. Workday, Microsoft Directory, SAP, and Oracle Peoplesoft are other options.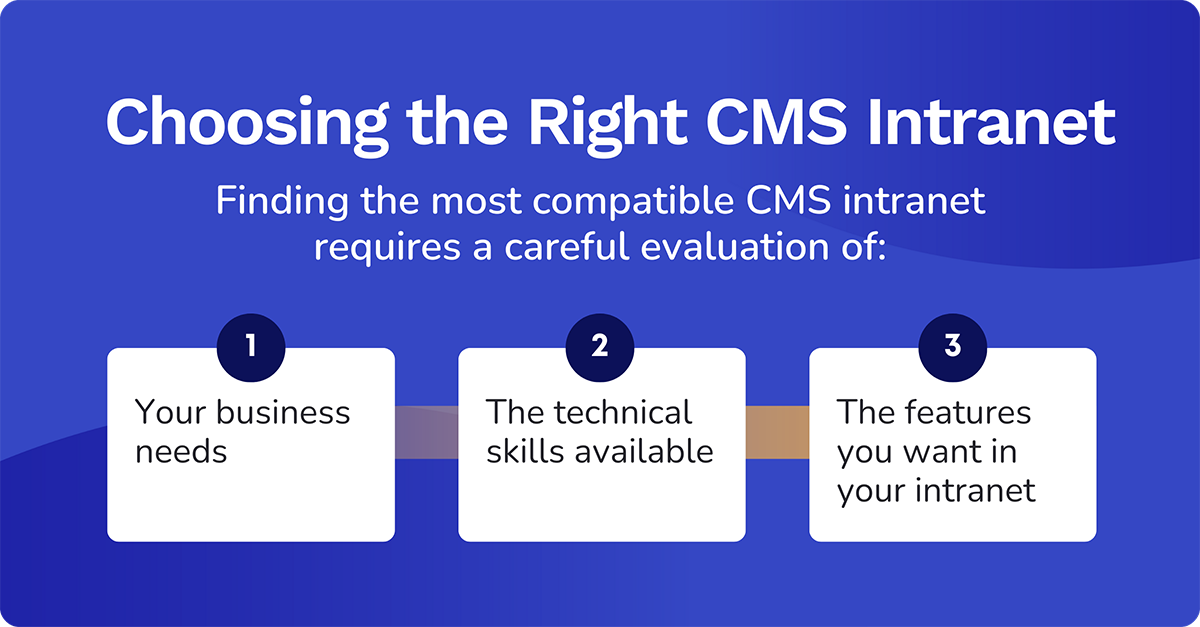 Successful Intranet Features
The winners of the NN/g 2023 intranet competition came up with some inspirational features, some of which are remarkably simple.
AbbVie, a large U.S. biopharmaceutical company, created communities where employees can share ideas and information about everything from news, systems, and people, depending on their common interests. Their motivation was to drive connection and collaboration.
Similarly, ServiceNow, a U.S. software company in the business of developing a cloud-computing platform, created three themed intranet sections – Connect, Grow, Work – for content, features, and programs. The company also included a centralized manager hub and an employee goal-setting feature in its intranet.
Unsurprisingly, AI-powered chatbots were a feature for some. MetLife, Inc., a well-known provider of insurance, annuities, and employee benefit programs, created two chatbots for two distinctly different purposes.
The Future Work chatbot, launched three years ago to guide and assist employees with COVID-19 and the company's hybrid working model.
The Collaboration Tools Wizard, designed to help employees find the right collaboration tools based on individual tasks.
MetLife is also recognized for its AI-leveraged My Path program that matches employees with people, projects, and positions in the organization based on experience, skills, and their career ambitions.
What's Next?
Cerkl Broadcast doesn't have a native intranet, but we do offer intranet plugins, including an invaluable SharePoint personalization web part that sends notifications via all channels without any code required. We believe it's better than the average existing intranet for several reasons.
If you'd like to know more, we're ready to give you lots of input that will help your internal communications go from strength to strength.
FAQ
What is CMS for intranet?
A content management system for an intranet is a software application or platform designed to create, manage, and organize digital content within the internal network of an organization.
What is an intranet content manager?
An intranet content manager is responsible for overseeing, organizing, and curating the content of a CMS intranet within an organization's intranet. Intranet content managers are responsible for the creation, publication, and maintenance of internal content, ensuring it aligns with company goals, is up-to-date, and effectively serves employees' needs.
How do you build an intranet platform?
The key steps to building any intranet platform start with an assessment and decision of which CMS intranet software to use. Then the platform must be designed and a structure created for easy navigation and access. Content creation is the next step, although you don't need to add all content at this stage. Then the platform must be tested before it's deployed.
What software is used for intranet?
CMS intranet software is a platform designed to facilitate the creation, management, and organization of internal digital content within an organization. Popular brands include Microsoft SharePoint, Igloo, Drupal, and Jive.