Over the past 20 years, I've actively managed nine website re-platforming/redesign projects. Three of those were significant employee intranet renos.
An internet/intranet project greeted me with every new role. From FrontPage (I know, FrontPage?), open-source/PHP platforms, discontinued MCMS to Adobe Experience Manager, Oracle WebCenter, and SharePoint—I've seen it all. The most important lesson along the way—just because you build or enhance "it", doesn't mean employees will proactively visit.
Bottom line: Your cms employee intranet must be a dynamic, personalized resource for employees. Adding a FOMO (fear of missing out) element will motivate employees to return daily over their morning coffee. I've collected six tried and tested methods that will ensure employees keep visiting your intranet.
---
1. Establish Good Employee Intranet Governance
What does governance have to do with site visits? By working across your organization and establishing working relationships that cultivate substantial content contributions, you're setting yourself up for success.
Make sure your Content Management System (CMS) has workflow permissions for contributing and approving content. Develop an intranet governance guide and develop contributor CMS training to better collaborate with your business partners. Above all, your workflow ensures reviewing departmental page updates, message consistency, and your company's writing style guidelines.
Content contributors are not only fantastic brand ambassadors, but they also help reveal news nuggets across the company. The more variety of news you publish to the intranet, the more employees will see it as a news source. Cerkl Broadcast utilizes various admin permissions to empower content contributors to post content submissions placed in a queue for approval. Once approved, you publish once to your intranet and Broadcast automatically publishes news and notifications based on what employees are required to see and what they have implicitly said they want to see.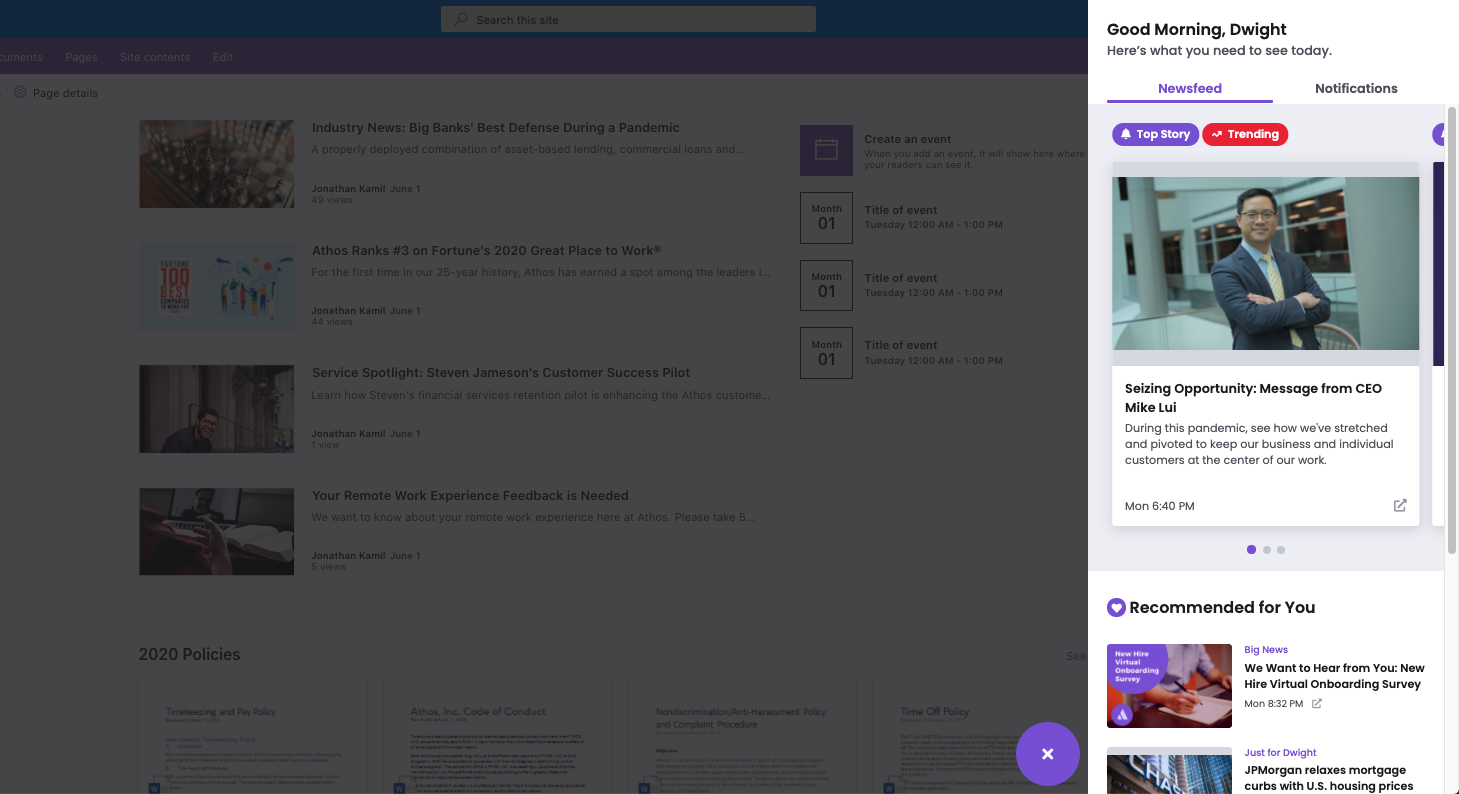 2. Personalize Employees' Intranet Experience
Making your organization's intranet relevant to each employee seems like a daunting task. I remember having to manually geo-target content by zip code when using a complex open-source CMS. It could be exhausting. Many platforms have add-on widgets for personalization, but often these features require development work.
From a site structure standpoint, you need to know how employees interact with your intranet based on their job functions. If your Sales teams are only utilizing one aspect of the platform, you'll need to think about centralizing its content. That way, you're encouraging a more extensive user experience.
Are company tools siloed to specific department landing pages? Look at decompartmentalizing your content. I've pushed some buttons by shifting the company's site architecture from divisional pages to a centralized self-service tools area. Once the change happened, we garnered positive feedback as employees were just two clicks away from work tools, such as their CRM, timesheets, T&E reporting, and benefits portal. You have to advocate the employee experience in understanding teams' unique time constraints and barriers to cms intranet utilization to ensure it's a fit-for-purpose communications platform.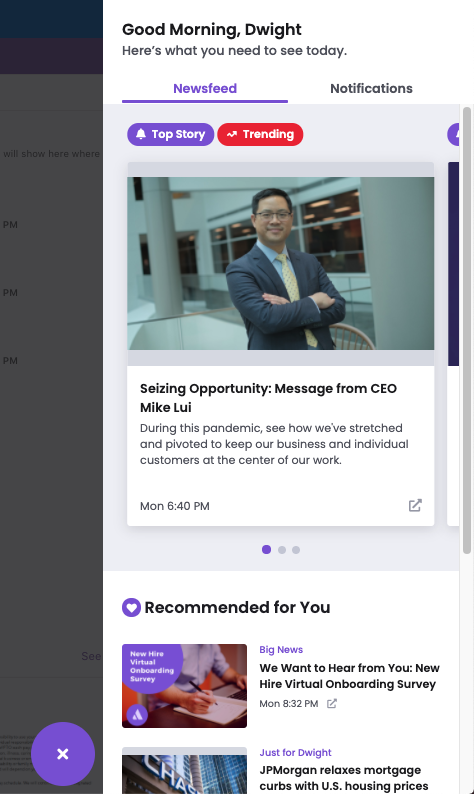 3. Create Engaging CMS Employee Intranet Content
Create messaging that this is a platform specially designed for employees. It is "theirs" and reflects employees wherever they sit within the business. Content is key to designing an employee experience. Operational updates will get more views when you pair critical hard-hitting news updates with appealing human interest features.
Put the fun into your employee intranet in a brand-defining way. Develop trivia questions of the week that tie into your business, develop a treasure trove of weekly employee polls, work across the company to cultivate employee spotlights, create person-on-the-street video content, and augment your content inventory with industry news. This variety will keep employees returning.
It sounds daunting, but small teams can gather reliable material by thinking smarter. For example, provide a quick Q&A template that managers can fill out to provide employee spotlights on high performers. My former communications team worked across the company to develop employee spotlights that shared their personal goals and work philosophies that helped exemplify their success on the job. Some employees would respond to key prompts by shooting a video from their mobile phones, and we edited those pieces and published them on the intranet.
Not every piece of content has to be an editorial style article to create riveting appeal. Short blurbs and photo galleries that allow employees to peruse the intranet each workday will keep them returning quickly.
4. Build a Social Network on Your Intranet
Your company's intranet is the perfect platform to foster a two-way conversation. Consider plug-ins that allow employees to comment on stories and share opinions with polling around issues impacting the company, such as workstyles, goal setting mission values, and policies.
A monthly kudos corner where managers and team members could praise their colleagues for their contributions took off like wildfire with a former employer. Discussion forums around troubleshooting and work-related topics can provide a meaningful collaboration outlet when moderator/posting content with clear guidelines. Employees are used to social media. Therefore, adding this functionality increases site visits and can engage employees with company happenings in a participatory way.
5. Extend Intranet Content Across All Channels
If you're in the business of employee communications, chances are you are reposting kings and queens repurposing content on all channels to ensure employees see your organization's content.
By offering your employees new gateways to the intranet via a mobile app, email, Microsoft Teams, Slack, etc., you're meeting them where they are and still utilizing your intranet. As consumers, we have a multitude of platforms to choose how to receive information from marketers like Twitter, Facebook, email, and mobile apps, so why should employees be relegated to one channel? By thinking cross-platform, you can push your cms employee intranet content across a dispersed workforce and build engagement for desked and remote employees.
6. Take the Employee Intranet Development Longview
Is your intranet a default homepage when employees log on? If not, you're losing employees from reviewing the intranet each time they start their day. If your Communication team are business owners of the intranet, do you have the IT support you need to build a roadmap for updates?
I've inherited outdated intranet platforms that took an executive sponsor and tearing down many internal silos to build a better solution. Communicators must be at the table when reviewing platform vendors and key functionality and matching those intranet capabilities to organizational goals and priorities. Establishing a partnership with IT to cover employee intranet maintenance alone won't cut it. You need to develop a roadmap for this key communications platform.
Just like any software tool, your intranet needs to evolve incrementally over time. According to Gartner, a global research and advisory firm, on average, programmers abandon up to 15% of IT projects due to a lack of adequate research. If the project isn't abandoned, they spend at least 50% of their time redoing work. You can avoid this by cultivating a solid partnership with your IT department or working with leadership to build project management support for your communications platforms, including your company's intranet. It also helps to research intranet content best practices and learn to speak like an IT professional.
What's Next?
Do you want to learn more about how you can optimize your company's employee intranet? Schedule a demo today.