Internal communication plays a critical role in any organization's overall functioning and success. Whether it is engaging employees, aligning teams with organizational goals, promoting diversity and inclusion, or fostering a culture of openness and honesty, effective internal communication is the way to ensure an empowered and motivated workforce.
According to Grammarly and The Harris Poll's The State of Business Communication report for 2023, 72% of business leaders reported an increase in their team's productivity as a result of effective communication during 2022, a sentiment echoed by 52% of knowledge workers. At the same time, 43% of business leaders said a major impact of poor communication was lowered productivity, and 19% said it lost them business.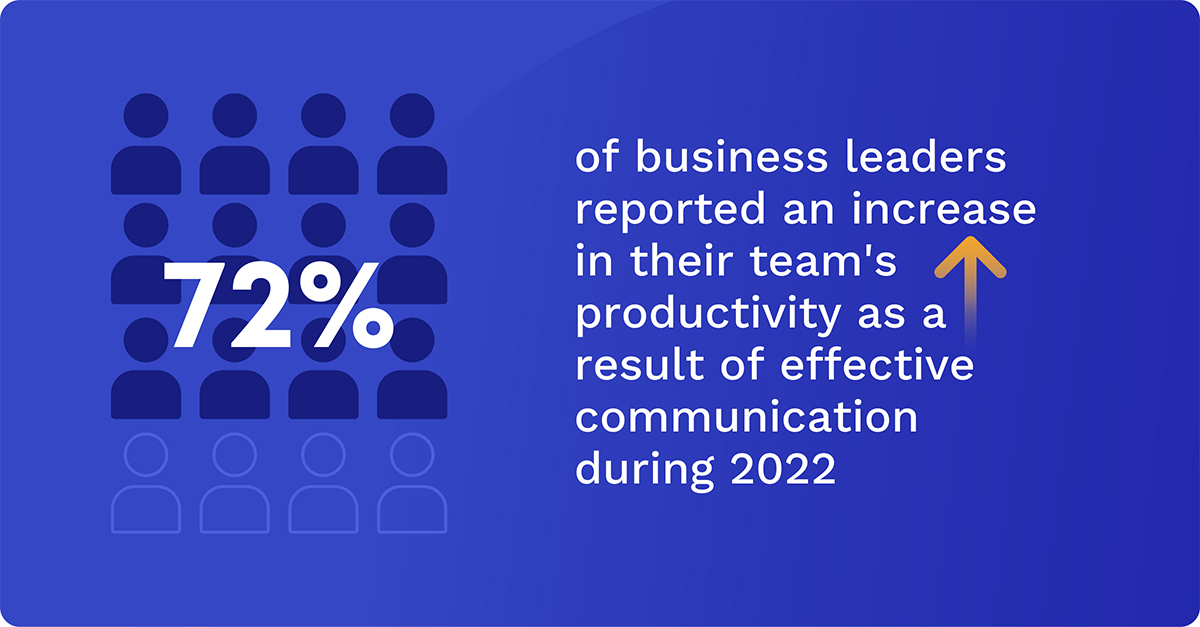 Gallup has been researching employee engagement and performance outcomes for many years. Their studies confirm that effective communication contributes enormously to an increase in productivity. It also produces higher customer loyalty and profitability. Their most recent engagement meta-analysis report shows that organizations with effective internal communications display major median percentage differences to companies that don't — including 14% in productivity, 18% in sales, and 23% in profitability.
Recognizing its incredible importance, we are going to share some of the best practices for internal communication set to rule the stage in 2024. We are going to examine the many aspects of internal communication that can elevate the effectiveness and ultimate success of your organization. These range from establishing clear communication objectives to leveraging advanced tools and technology. We will also show you how to measure the success of your internal comms strategy. Finally, we'll tell you what to look for when choosing a suitable communications platform.
The Importance of Internal Communications
No organization can function effectively without strong internal communications best practices. A good internal communication plan forms the backbone of any successful company, providing clear channels for disseminating information, resolving issues, and motivating staff members.
Furthermore, a solid internal communications plan is a crucial component of a wider communication strategy. It not only lays out a roadmap for the flow of information but encourages transparency, which builds trust among employees. This trust, in turn, can lead to employees being more engaged, which results in increased performance and productivity.
Gallagher's State of the Sector 2022/23 report is all about Internal Communication and Employee Experience. Examining the purpose of internal communication, they found that culture and belonging, and strategic alignment are the most important elements in most organizations. For 74%, the most important element was to create an inclusive working environment where employees will feel energized and valued. Creating a strong sense of ownership along with clarity around a communication strategy was tops for 67%.
But there are challenges too, and the report shares those that organizations say they are facing. They are identified by organization size, but a general lack of time and capacity in teams is a significant challenge for 34% of organizations across the board. Slightly less (30%) find disengaged employees a problem, but that figure has dropped from 37% in 2022.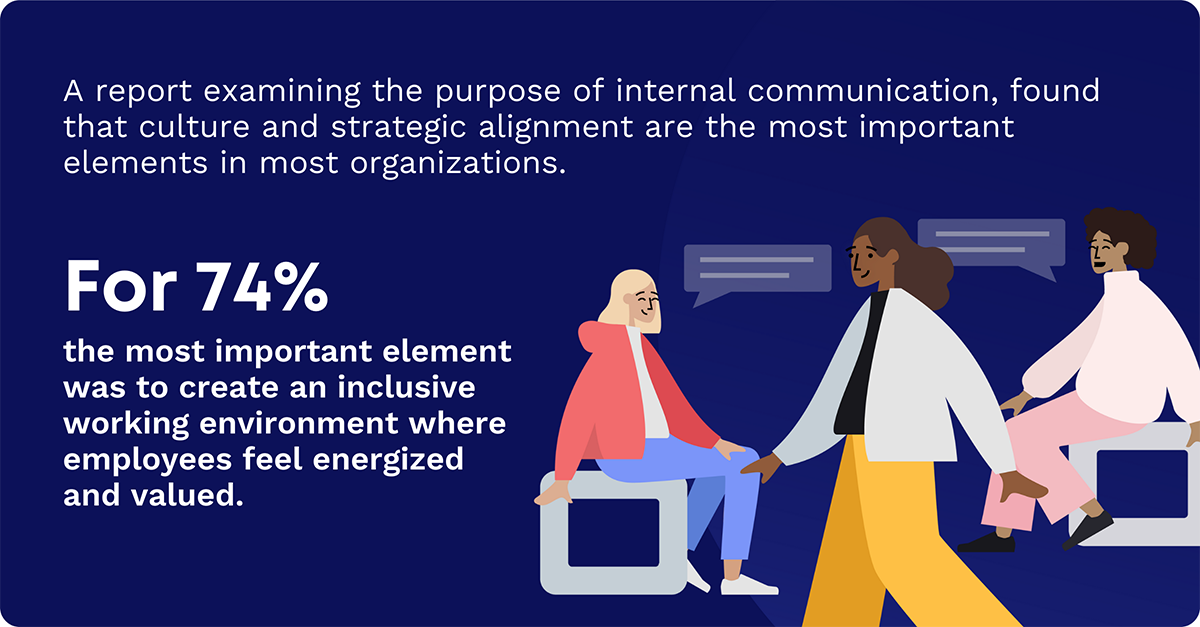 Smaller organizations with more than 500 employees identify internal technology and communication channels as an important issue. For organizations with up to 10,000 employees, the volume of communication and a lack of analytics are highlighted as being problematic.
Obviously, overcoming these challenges relies on strengthening the efficacy and functionality of the communications plan operating within the organization.
4 Pillars of Communication
You'll often see articles about the four pillars of communication. But, like many things in life, interpretations differ. So, we're going to have a look at a few of those that can help you improve communication in your organization.
A simplistic approach is to consider listening, reading, speaking, and writing as the four pillars of communication. Listening helps to build mutual trust and it fosters collaboration. Reading can reduce stress at the same time improve knowledge, vocabulary, and the powers of concentration. Speaking will give you visibility and can increase credibility. It is known to develop confidence and leadership skills. Writing can improve the clarity of communication and enhance productivity.
Another similar approach names the four pillars of communication as written words, spoken words, listening, and body language. It can be challenging to communicate via written words because clarity depends on the effectiveness of the writer as well as the understanding of those who receive the messages. When speaking, it's important to choose words carefully and to deliver them with an appropriate tone of voice. Listening is important for everyone, from the CEO of an organization to those undertaking the most lowly tasks. Body language has more importance than many people realize. For example, good posture can convey confidence, while a lack of eye contact can raise suspicion.
Axios HQ identifies four pillars for essential communications management (ECM). These will help you to communicate clearly and keep employees more focused and aligned.
Plan your communications carefully.
Compose what you are going to say to make it meaningful.
Align your communication to keep everyone on the same page.
Measure the results of communication efforts.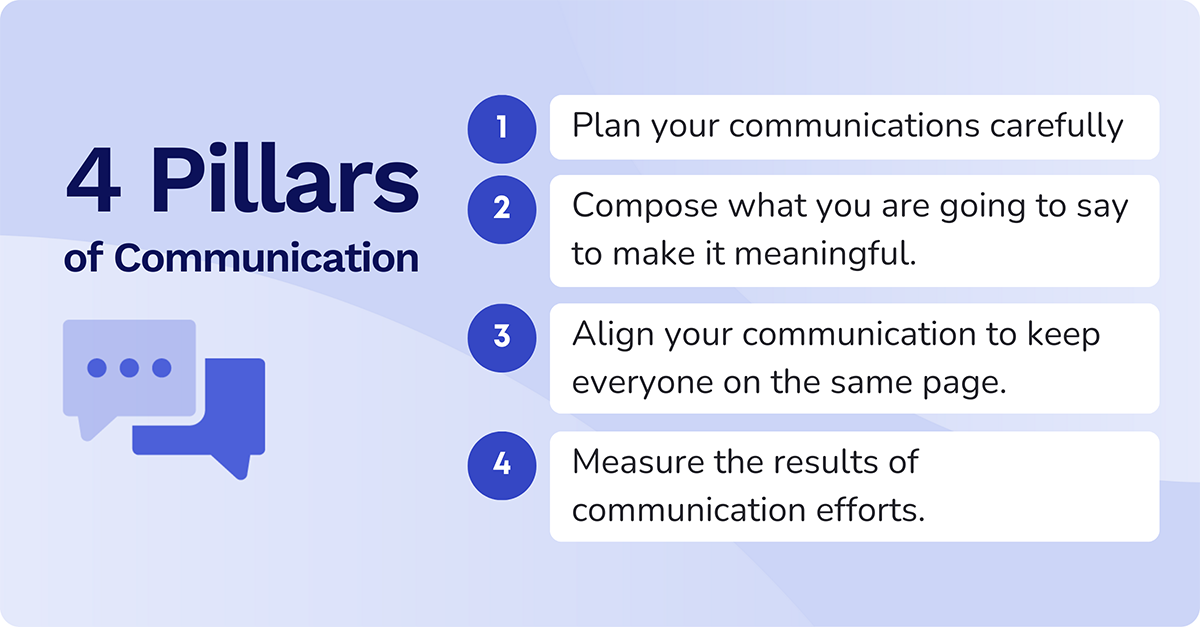 Key Best Practices for Internal Communications
As an internal communicator, your responsibility is to understand and implement internal communications best practices. In an era where remote work is the new norm, effective internal communication is more crucial than ever. Your projects and strategies can crumble under inadequate or ill-managed internal communications.
The emphasis on a strong internal communications plan isn't just about relaying messages. It's about building relationships, boosting employee engagement, and promoting a strong brand voice. It's about striking balance and avoiding communication overload while keeping staff members informed.
Here are 15 crucial steps to help improve internal communication:
#1 Establish Clear Objectives for Internal Communications Initiatives
Your internal communications initiatives must be guided by specific objectives. Just like any project management process, your communication strategy needs clear goals and intended outcomes. All communications, whether internal newsletters, internal emails, or social media posts, should align with these goals.
For instance, if you are aiming to improve engagement levels, an objective might be to increase open rates for your internal communications emails. Use an email analytics system for email tracking to measure progress and adjust your approach as needed.
#2 Align Internal Communications with Organizational Goals
Aligning internal communications best practices with overall organizational goals helps to streamline messages, reducing the chances of communication overload. It also ensures a seamless link between what the company stands for and how staff members conduct their work.
Internal communications content that mirrors the company's mission statement, for instance, not only keeps staff aligned but also reinforces the brand voice consistently. Use an approval process that checks for alignment before dispatching any form of communication.
#3 Leverage Technology and Internal Communications Tools
The latest internal communication tools provide opportunities for more effective internal communications. Technology can elevate your internal communications plan, and there's lots to choose from. Examples range from internal communications apps for real-time updates to email template builders for custom email lists.
Consider introducing tools for text messages, list management, and even an internal communications audit. The right technology will help simplify and optimize your internal communication efforts.
#4 Craft an Effective Internal Communications Strategy
An effective internal communications strategy is key to achieving your objectives. This plan should cover all bases. These will include which individual targets or groups need to be reached, what content should be sent, through what internal communication channel, and when.
Remember, a good internal comms strategy also includes measuring key metrics such as open rate, feedback analysis, and employee newsletter subscription rates.
#5 Foster Employee Engagement and Motivation
Research proves that an engaged and motivated workforce is more productive and committed. So, engage employees with regular employee recognition, surveys, and provide opportunities for growth within the organization.
Employ strategies such as regular company newsletters, internal stories that recognize employee achievements, bulletins, and updates to share these initiatives. Keep your employees motivated and they will be sure to proudly serve as your company's best ambassadors in employee advocacy initiatives.
#6 Connect Employee Engagement and Productivity
The link between how engaged employees are and productivity is undeniable. Use your internal communications program to enhance this connection. Employee communication that celebrates achievements, shares productivity tips and promotes a positive work culture can boost engagement and productivity.
Be sure to promote these with a mix of media types for maximum reach. Your communications strategy should not only encourage engagement but also measure its effects on productivity.
#7 Identify and Address Communication Overload
Communication overload occurs when staff members receive more communication than they can process. This can contribute to stress, disengagement, and decreased productivity. For this reason, it's essential to develop a balance in your internal communications to prevent it.
Streamline your communications so that only necessary and relevant messages are sent out. A custom email list can prevent irrelevant messages from reaching the wrong audience. A platform that enables you to segment your audience is even better.
#8 Promote Diversity and Inclusion
Diversity and inclusion foster a richer, more innovative, and cohesive workspace. Promote these values in your internal communications content. Encourage different perspectives, cultures, and ideas within your internal newsletters and updates.
For instance, celebrate international holidays or employee accomplishments that highlight diversity and inclusivity in your company newsletter and on social media.
Interestingly, Gallagher's State of the Sector 2022/23 report states that diversity, equity, and inclusion was the most frequently communicated topic in 2022. Don't get left out!
#9 Encourage Employee Feedback
Employee feedback provides invaluable insights into how they perceive your internal communications and the company as a whole. Encourage feedback through anonymous surveys, suggestion boxes, and regular catch-ups.
Take note of feedback and ensure you act on it if you can. This not only helps improve your internal comms but lets employees know you value their thoughts and opinions.
#10 Create a Culture of Open and Honest Communication
A culture of openness and honesty is crucial for effective internal communication. Such a culture allows for the free flow of ideas and the resolution of issues faster. Ensure your internal communications strategy promotes this.
For instance, engage with employees directly about changes in policies, company performances and decisions to be made. Transparency breeds trust, which is crucial in any internal communications process.
We've already mentioned that the Gallagher survey cited 74% of respondents saying the purpose of internal communication is to support culture and belonging. This is great, because, as the report states, "Culture relies on the alignment and sustained engagement of everyone within an organization, from senior leadership to frontline teams." This is a powerful step in the right direction.
#11 Use a Variety of Communication Channels
Different messages often require different channels. Use a combination of methods such as email, intranets, videos, face-to-face meetings, and anything else that works for your organization. The more channels you use, the more likely the message is to be seen and acted upon.
Just remember to keep your tone consistent across all channels so that you maintain your corporate communications identity.
#12 Segment Your Audience for Targeted Messaging
Most people, even those not closely involved in marketing exercises, realize the value of segmenting markets for marketing activities. So, it makes sense to segment your internal audience too. After all, different teams have different functions so it stands to reason that they will often need different information. To improve internal communication, identify who needs what information and deliver the appropriate information to the relevant segments.
By only sending what is relevant to them, it will show them that you respect their time. At the end of the day, this reduces information overload and increases engagement.
#13 Provide Consistent and Timely Updates
Communication should be frequent enough to keep everyone on the same page. But it's important to avoid overwhelming your employees. Regular updates on ongoing projects, changes in company policies, accomplishments, and reports on important developments will keep everyone informed.
Email tracking and email metrics can help you optimize the frequency and timing of your messages for the best open rate.
#14 Encourage Two-Way Communication
Communication isn't just about broadcasting information. It should be a two-way street. Encourage responses, questions, comments, and suggestions from your employees. This will foster a sense of community and provide you with useful feedback.
A good way to encourage two-way communication is by asking open-ended questions and conducting internal polls.
#15 Cultivate Trust and Transparency
Cultivating trust and transparency within any organization's communication plan is vital. Convey this through regular and honest messages that accurately depict the state of the company. Ensure that internal communications promote this culture of openness.
When employees trust their organization, they are more likely to act in its best interest, which can lead to increased efficiency and productivity.
Measuring Internal Communications Success
You have learned that it is essential for businesses aiming to enhance employee engagement and productivity to implement a strong internal communications plan. This endeavor involves a wide range of internal communications initiatives including regularly scheduled team meetings, informative internal newsletters, custom email lists, and an internal communications app. However, like any structured system, it's only as good as the checks and balances designed to oversee its implementation. Establishing accurate metrics and key performance indicators (KPIs), and conducting a thorough internal communications audit, can be a vital cog in the success of a company's communications strategy.
In today's digitally connected workspace, developing an effective internal communication strategy is more crucial than ever before. With the rise in remote work practices and team collaborations stretched across various time zones, an efficient internal comms strategy can be the difference between well-coordinated, results-driven project management and utter chaos. Thankfully, current technology enables companies to use platforms for collaborative work, social media for employee advocacy, and even text messages for simple, direct, and quick information dissemination.
Key Metrics and KPIs for Assessing Communication Success
Let's begin with a fundamental question. How do internal communicators measure success?
Typically, a good starting point would be the measurement of the open rate of internal emails. This is where tools like email analytics can play an essential role. By using email tracking features, you can gauge the reach and impact of every message you send to your staff members.
An advanced email template builder can simplify the creation process if you're dealing with a sizable employee newsletter, while email metrics can provide the data needed to evaluate its reach, engagement levels, and overall success. Robust list management will also prove crucial for successful internal communication because you can segment staff members into appropriate groups and provide more targeted, relevant content.
However, it's not wise to base your entire internal communications audit around email tracking alone due to the potential risks of mistaking email overload for successful outreach. The latest internal communication trend is employee feedback. This can be an invaluable tool in the approval process when making crucial decisions about company-wide matters. Honest and real-time input from your team members can ensure that your internal communications strategy is both well-perceived and beneficial.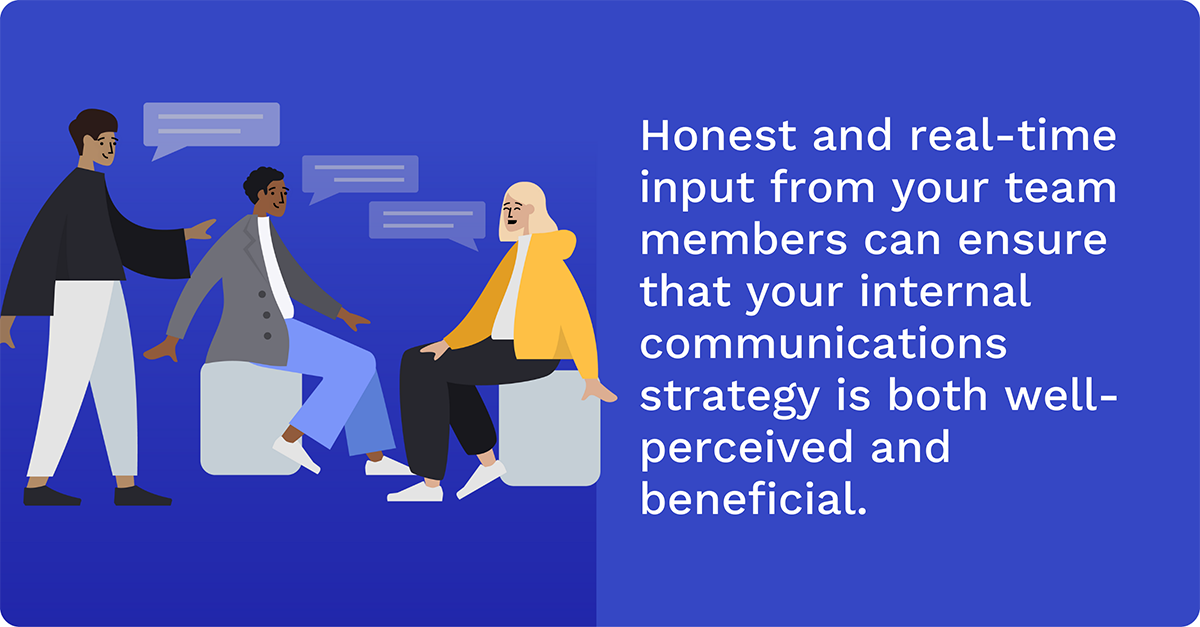 The Gallagher report states that 84% of organizations value employee feedback and 65% learn and act on it.
In addition to these practical insights, it's well worth bearing in mind that the best internal communicators are those who can adapt nimbly to change. The ability to pivot is a trait that is now more important than ever before, with many companies still grappling with challenges presented by a shift to remote work. Here, internal communications best practices should focus on creating a work culture that promotes regular interaction between remote workers, keeping them informed and engaged.
Ultimately, achieving effective internal communications isn't just about having a successfully executed internal communications plan in place, but about constantly monitoring, auditing, and improving it in line with staff needs, workplace trends, and business goals. That's why it's so important to be aware of internal communications best practices.
Important Elements of A Good Communication Platform
Cerkl Broadcast is a powerful communications platform that was designed and built to modernize how companies communicate, engage with, and understand their people. It provides a centralized hub to make the job of internal communicators simpler, more effective, and infinitely powerful.
It incorporates modern, branded employee Email Blasts intended specifically for internal communicators. You can start off with an existing template or create your own in any way you wish. You can schedule your message any time in the future that suits you, making the process simpler and more effective.
The My News capability provides maximum reach using connected channels and can be personalized for every single employee wherever they are located.
Broadcast offers built-in Pulse Surveys in multiple styles that provide real-time tracking of responses. It also offers customizable Insights that incorporate shareable reporting components.
What's Next?
Do you want to improve your internal communication strategy and empower your internal communicators? Our Cerkl Broadcast platform can help you do this quickly and efficiently.
FAQ
How do you communicate effectively internally?
Effective communication within an organization involves fostering an open and transparent environment where information is shared promptly and clearly. It utilizes various communication channels, encourages feedback, and ensures that all employees are heard and valued.
What are the 10 steps to improve internal communication?
There are many ways that you can improve your internal comms, starting with employing internal communications best practices. Here are 10 logical steps you can take to get started:
1. Evaluate existing communication methods and identify areas for improvement.
2. Define specific goals.
3. Analyze your audience and tailor messages to address their interests and concerns.
4. Choose effective communication channels.
5. Encourage feedback and create avenues for open dialogue.
6. Provide consistent messaging.
7. Incorporate varied formats like written, visual, and interactive content.
8. Offer communication training to employees.
9. Leverage communication tools and technology to streamline and enhance the flow of information.
10. Implement metrics to gauge the effectiveness of communication strategies.
What are the pillars of internal communications?
Important pillars of internal communication include planning the strategy carefully and aligning it to make it inclusive. Internal communicators need to compose what they say thoughtfully, to make it meaningful, and ultimately measure the results to track progress.
What are the 7 steps to create an internal communication plan?
Here are 7 important steps you can follow to create an effective plan:
1. Define your objectives and clearly outline your goals.
2. Identify your target audience and segment it if necessary so you can tailor messages that resonate within each group.
3. Select appropriate communication channels, such as emails, intranet, meetings, or collaboration tools, based on the nature of your message and the preferences of your audience.
4. Develop clear, concise messages that align with your objectives.
5. Establish a communication schedule that will ensure consistent and timely delivery of messages to maintain engagement with employees.
6. Encourage two-way communication by inviting feedback from employees. This will foster a culture of openness and collaboration.
7. Implement metrics to evaluate the effectiveness of your communication plan. Be prepared to adjust strategies based on feedback and evolving organizational needs.