While the holiday season is often full of workplace celebrations, gift exchanges, and feasts, Q4 also can be full of year-end madness for employees. Internal communicators- don't want to pass up this important time to counsel leadership on the best approach for expressing thanks and appreciation for employees' hard work. More companies are abandoning fancy holiday celebrations (like the cringe-worthy 2016 movie, Office Christmas Party) for fun ways to express their thanks over the holiday season. The internal happy holiday message to employees is a must-have.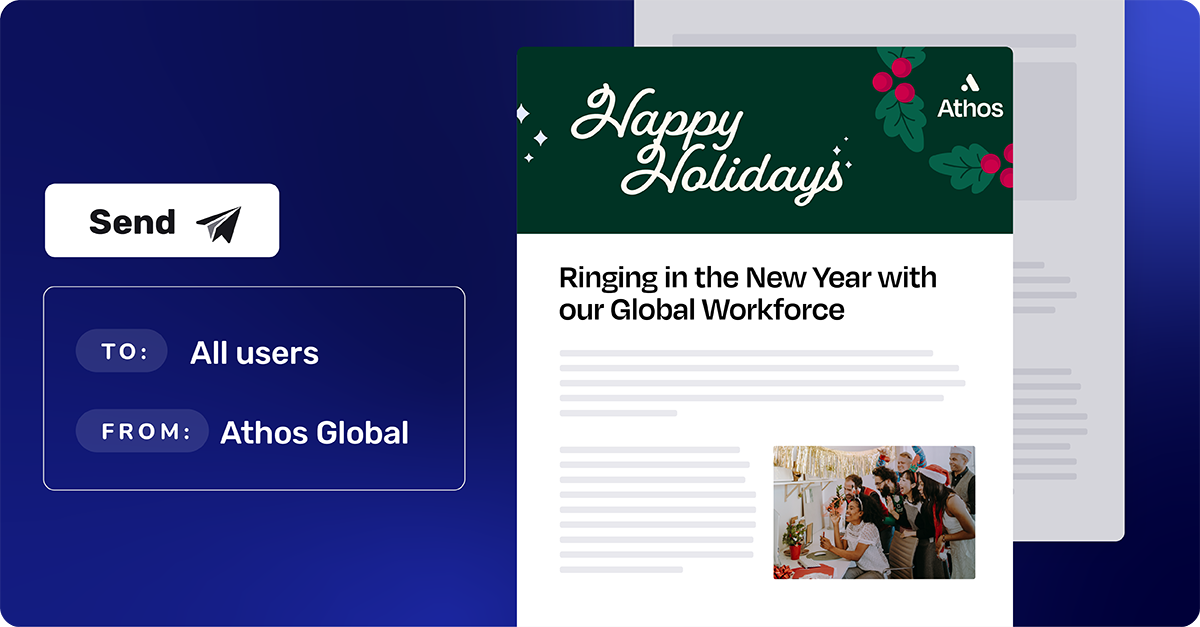 Are you looking to infuse your employee holiday communications with some creativity? I've thrown together a list of my top ten. Now check it twice to ensure you're conveying good tidings and holiday cheer.
1. Seeing is Believing
Video can be more impactful than a short-form happy holidays email. Prompt leaders with personal questions about the holidays and edit their answers into a montage or have them deliver a heartfelt holiday message that reflects their gratitude for employees' hard work and contributions to the company.
2. Happy Holidays Email Transparency Wins
What if your workplace had a lot of ups and downs this year? Recognizing the challenges and providing encouragement sends an authentic happy holiday message to employees. If you allow comments on your intranet platform, consider posting the message and asking employees to share what they're most thankful for to foster a two-way conversation.
3. "Deck it Out" with Your Internal Brand
Give your happy holidays email a visual punch. Create a design that incorporates your logo as snowflakes or tree ornaments. How can you integrate your brand colors to ensure it looks like your company? A happy holiday message to employees shouldn't be just red and green, including all the holidays this season.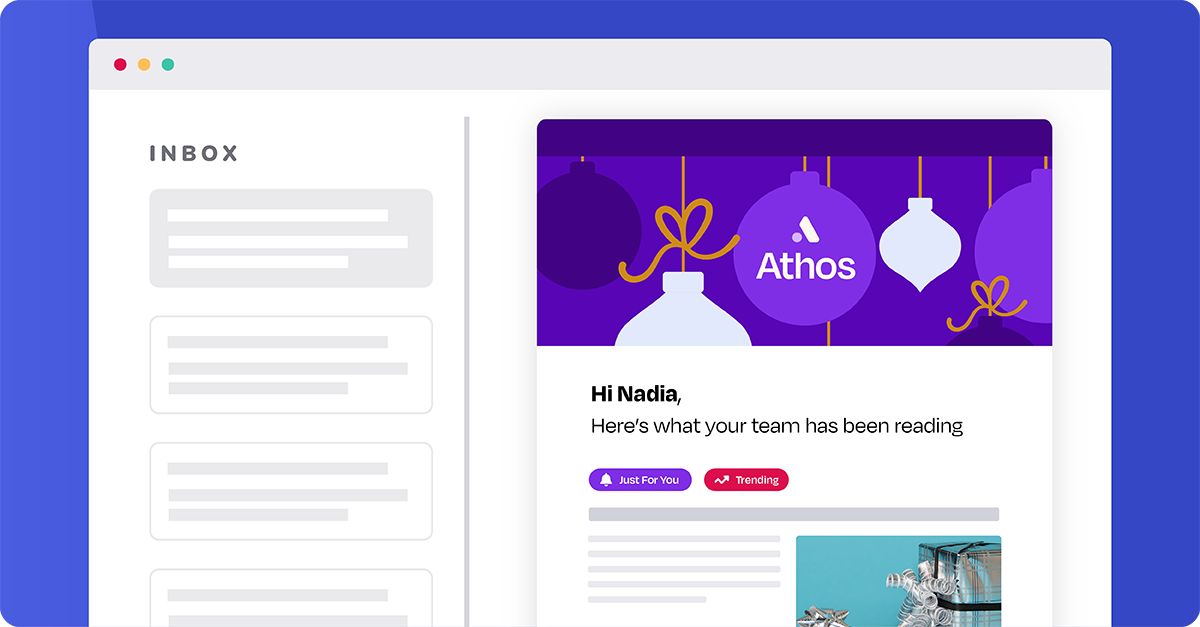 4. Make it Personal
Cerkl gives you personalization tools to connect 1:1 with employees. Think about addressing the employee by name to convey a unique, personal feel with division-based or business unit-specific messages.
5. Share Some Holiday Humor
Holiday messaging is your opportunity to showcase the fun, lighthearted side of leadership. How about a zany photo that captures the team's favorite hobby or activity. Think of an executive with a tennis racket in hand, another with baking supplies, or wires and tech gadgets. Why not create a video of your executive team reciting a clever rhyme? They can recount the company's wins and share gratitude for employees' collective work to make them happen.
6. Say it with a Special Treat
Think about a small gift to accompany your happy holidays email message to employees. I worked for a Fortune 500 company that gave out pies for Thanksgiving. HR would hand out tickets to each employee to claim their pies. The Tuesday before Thanksgiving, employees would receive a thank-you message from the area leader, letting them know the time of day to pick up their baked goods. Deskless employees could travel to the closest office to pick up their pie or donate their pie to an area food pantry or homeless shelter. A follow-up email was sent out to employees reporting back how many pies were donated with a feel-good photo.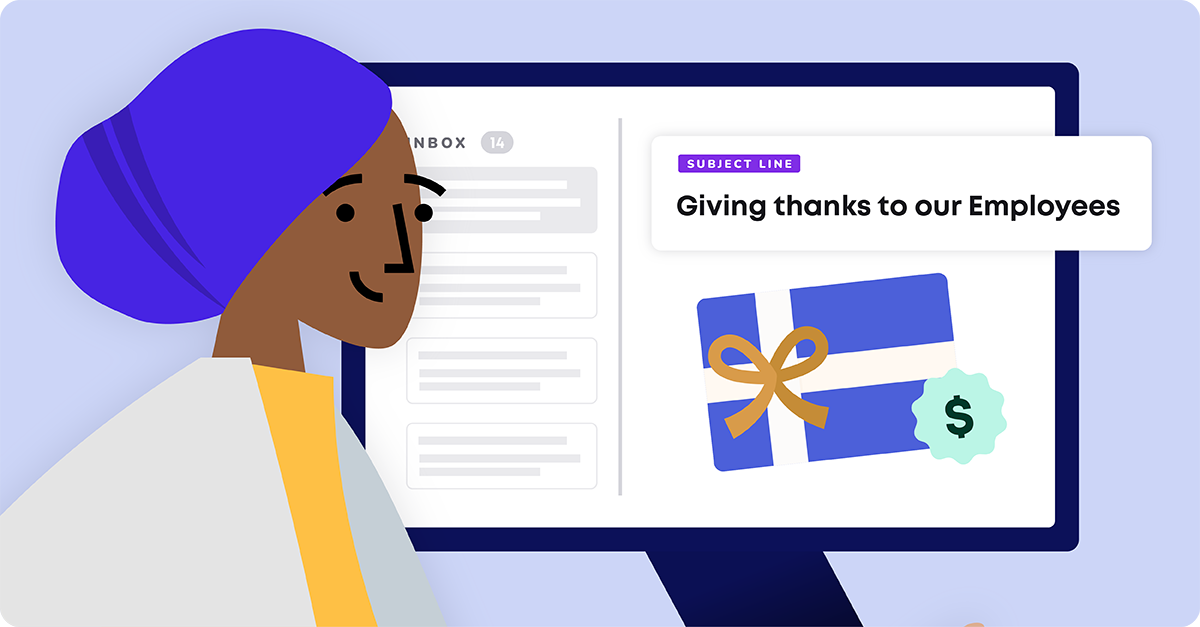 7. Spread Joy Evenly
Make sure your happy holiday message targets all employees. If your company is global, this is a great time to think about holiday messages to your workforce in other countries. When I worked for a global company, we made sure to send Diwali (a secular Indian holiday that is celebrated in the late fall) to employees in India and Lunar New Year (Jan. 25, 2020) messages to employees in AsiaPac. We also made sure that we scheduled a company holiday message to employees appropriately, knowing that the workforce takes time before the Lunar New Year.
8. Connect with the Community
This is a great time to share how your company helps the community. Think about a holiday giving or volunteer program and integrating a holiday thank-you to employees for representing the company with community volunteer work in 2019. Many large companies have Corporate Social Responsibility (CSR) programs with strategic giving priorities. Make sure your holiday giving project aligns with your CSR focus to make the most impact.
9. Wrap It Up with Your Mission, Vision and Values
A leadership holiday message of gratitude is amplified when you weave in your company's mission, vision, or values. Maybe it's teamwork, excellence, or integrity. Thanking employees, by citing specific examples of these values in action, can enrich your message. Often mission statements describe how the company delivers value to its customers. A happy holiday message is perfectly suited to affirm that employees make an organization's mission possible.
10. Curate a Merry Montage
Vividly recap the yearly work with photos and short video snips of employees working, volunteering, and celebrating the past year's successes. Solicit submissions across the organization and build a 2-minute montage that represents your entire workforce. Have members of your company's leadership create voice-over messages of thanks and holiday well-wishes to employees.
Whether you are incorporating one or a handful of these ideas this holiday season, taking every opportunity to thank your staff for their hard work helps foster employee engagement and is just the right thing to do.
What's Next?
Improve internal communication with Cerkl Broadcast and find out how successful companies trust us to channel their company holiday message to employees. It's time to assess your employee communications and build a solid internal communications multi-channel strategy.
Want feedback? If you complete it, we will provide you with free, personalized advice on how to improve. Get started using your email.