Effective communication is the lifeblood of any successful business. Without clear and open channels that allow information to flow both ways, companies may falter and fail. That's why two-way communication between management and employees is so vital.
However, employee engagement, recognition, and impact of stress are all factors that play a role in effective communication. It's not just about letting both parties have their say. That's why we've decided to decode the benefits and best practices of two-way communication.
We're going to look at what two-way communication is and how it differs from one-way communication. We'll discuss why it is so critical in business, education, and everyday life and outline what you have to do to implement a successful two-way communication system.
What is Two-Way Communication?
Two-way communication is a process that involves transmitting and receiving, speaking and listening, and accepting and responding to messages. Responses might be to what a team leader has said, what a colleague has said, or it may be a management response to employee feedback. This distinctive form of communication ensures there is an interactive and open exchange of information between two parties, in this context, between employers or business leaders and employees, or between employees or management.
Two-way communication ensures that both the sender and the person receiving the message engage in a collaborative conversation. It differs from the traditional top-down, hierarchical method of communication where information typically flows from senior management to employees.
In our post on Top 20 Types of Internal Communication for Boosting Teamwork we feature both top-down and two-way communication. When you study the 20 different types, you will see that while these have significant differences, all can be implemented in such a way that they offer a two-way communication strategy. For example, top-down communication, which flows from management down, as well as bottom-up that vows from employees upward, can both become two-way communicators when they aim to attract feedback. Management can use top-down communication for surveys that ask for employee opinion, while bottom-up communication might seek feedback from team leaders on specific issues that concern them. 
The essential element of two-way communication is simple. Whether it's peer-to-peer communication where employees share ideas and opinions, or rewards and employee recognition communication from employers, as long as there is an opportunity for feedback and/or response, it becomes a two-way conversation. If response is not enabled, it is clearly one-way communication.
Importance of Two-Way Communication
Two-way communication encourages employee engagement, enables employees to give valuable feedback to which they expect their employers to respond, provides critical insights, and creates a culture of community.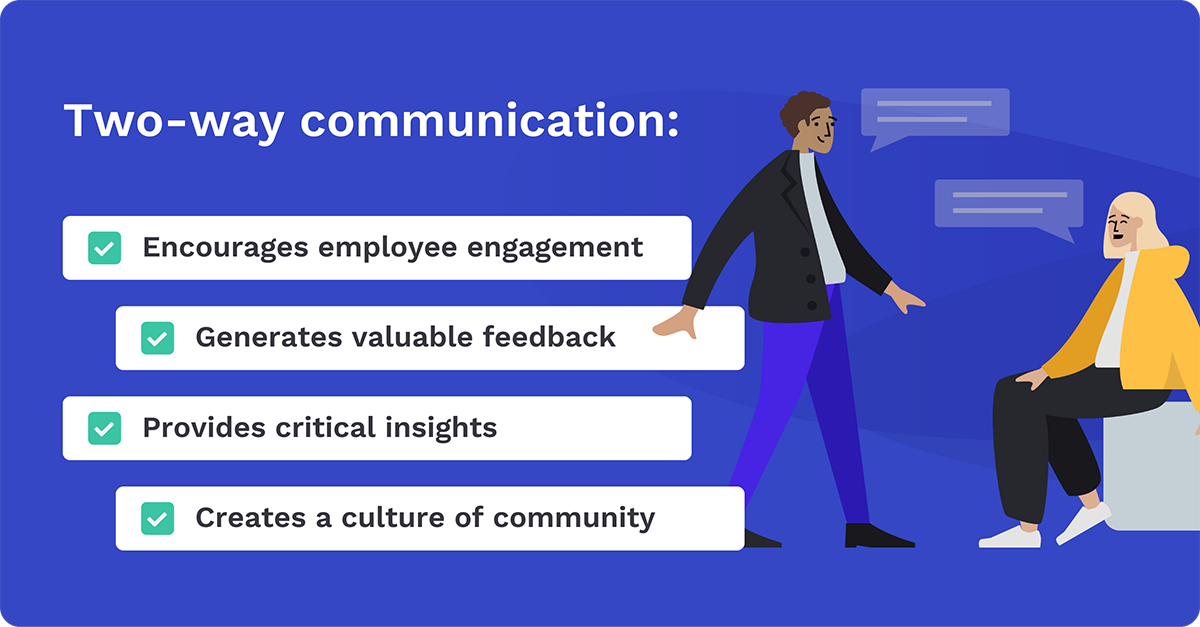 In the context of companies, two-way communication operates as an enabler for building trust with team members. When employees feel involved in the decision-making process, their commitment to the organization generally increases.
Further extending the process of two-way communication, human resource (HR) teams often make use of wellness checks for individual employees, list management techniques, and opt for annual employee surveys to gather critical feedback. Clear internal communication strengthens the organizational culture, in turn, leading to increased productivity.
You could liken the process of two-way communications to an air traffic control system. In a well-functioning two-way communication system in organizations, you will be able to identify regular updates, alerts, and feedback that maintain a smooth inflow and outflow of communication. So, just like in an air-traffic control station, ongoing information, feedback, and news keep everyone informed and moving in the same direction.
We decided to highlight a few research reports that prove just how important two-way communication is.
What Research Tells Us About the Value of Two-Way Communication
Cerkl is committed to elevating internal communications. So, it won't surprise anyone that we keep abreast with research into the communications sector globally. We strongly believe that communication is king. But it has to be done the right way.
McKinsey & Company's The State of Organizations 2023 survey reveals a lack of purpose in communication (43%) and/or insufficient support for achieving individual purpose (32%). One of their many findings is that "purposeful communication is a skill and an art." Another is that only one-quarter of those who participated in the survey recognized their "leaders as inspirational and fit for purpose." A lot has to do with accessibility and all-important communication.
While the McKinsey survey report doesn't mention two-way communication as such, it does highlight the value of pulse check surveys and feedback. Importantly, it states that, "Companies can adjust codes and boundaries, if necessary, based on employee feedback." We see this as a vital step in the right direction.
Axios HQ
In The 2023 State of Essential Workplace Communications, Axios HQ acknowledges the challenges of effective communication. "Technology was meant to ease the transition and keep folks informed, but as organizations added new platforms faster than they could define their purpose, communication got noisy," it states. The answer is for leaders to pause, listen to their audience (be it their employees or stakeholders), provide the information they need, and make it easy to find. That's another way of saying how important it is to enable two-way communication. 
Leaders need to measure whether the essential communications they send are effective. But, this report states that 53% of all insights come from casual or unsolicited feedback from employees. But 40% say they simply don't track how employees respond to their updates. One has to wonder why they bother to ask for feedback in the first place!
It gets worse. Survey results show that 36% of employees are eager to share their feedback but don't believe they have an opportunity to do so. More than a quarter (27%) of leaders see collecting feedback as one of their biggest challenges. This tells us that they need a platform that simplifies the whole process.
Additionally, while 66% of leaders think they're aligned with employees, only 44% of employees agree. Here, the answer is to bridge the gap by implementing two-way communication.
Achievers Workforce Institute
A report by the Achievers Workforce Institute (AWI) Empowering Employee Wellbeing in the New World of Work emphasizes the value of internal communication in general, highlighting how important it is to boost and reinforce "feelings of support among employees." It acknowledges that communication reduces uncertainty, improves resilience in times of stress, and makes employees feel welcome, known, included, supported, and connected. It also emphasizes the importance of two-way communication and the need to get constant feedback from employees.
In the context of HR, AWI promotes the vital importance of two-way communication stating that there is a two-fold disconnect. Employees often aren't aware of initiatives created to support them, and, in many cases, even when they are, the initiatives are unsuccessful. The solution is to improve communication and share it "amply" and often, and to seek feedback from employees on what they want and need to feel an increased sense of wellbeing at work. Even that isn't enough unless leaders take action on the information provided in feedback.
The AWI report also indicates that employees whose employers acted on the feedback they provided were 17% less likely to be stressed.
Gallup
According to Gallup data, employees who strongly affirm receiving "meaningful feedback" in the week before are nearly four times more likely to be actively engaged compared to those employees who aren't engaged. Like other researchers, they have found that employees really do value feedback, not only from managers and leaders, but also from their peers. "They want to gain insights that advance their abilities and future potential." 
Asked if they had received "meaningful feedback in the past week," 84% who strongly agreed were actively engaged. Another 15% also strongly agreed even though they weren't engaged.
Ultimately, Gallup data shows that meaningful feedback fuels performance.
"The operative word here is meaningful: Not all feedback is equal. In Gallup's experience with clients, feedback is often a lengthy employee-manager discussion that requires pre-work for managers to rate the employee's performance over recent months. In today's fast-paced world, this scenario is impractical, ineffective and difficult to execute."

Gallup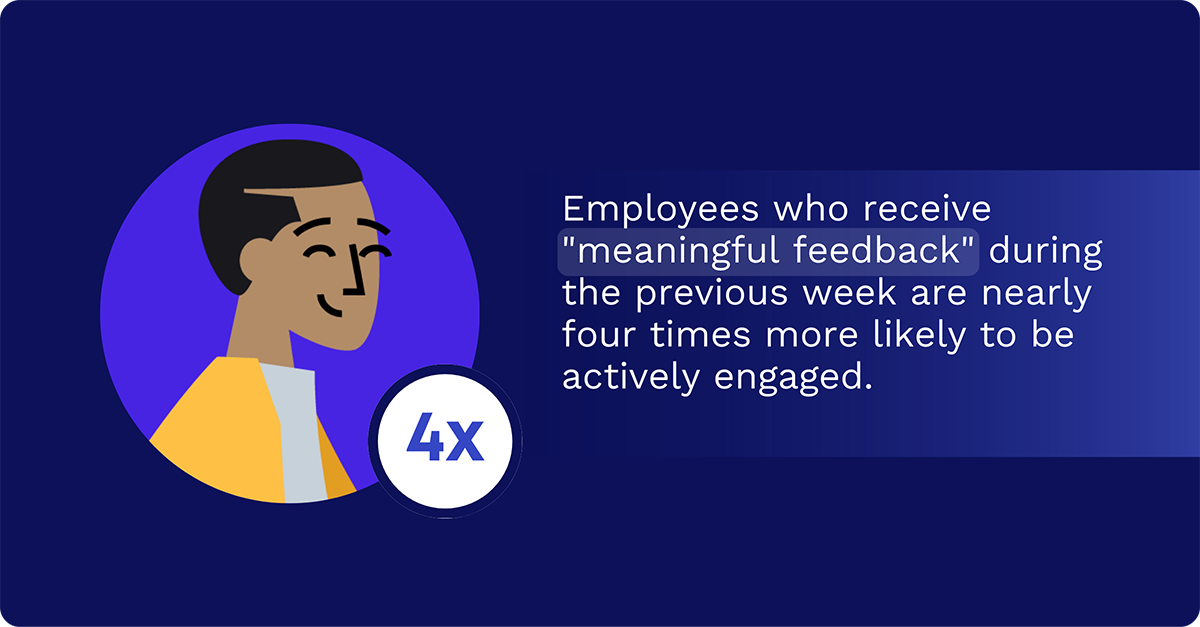 Types of Two-Way Communication
Generic forms of two-way communication are categorized by the way the information flows.
Horizontal two-way communication refers to the exchange of information between people on the same hierarchical level within an organization. This can include communication between colleagues, team members, and peers.
Diagonal two-way communication refers to the interaction between higher and lower levels within an organizational hierarchy. This includes communication between managers and subordinates as well as communication between employees from different departments.
Vertical two-way communication, on the other hand, encompasses both top-down and bottom-up communication within an organizational hierarchy. What this means is that rather than being one-way communication, for instance flowing down from management to the workforce, it flows both ways, with employees having the opportunity to respond from the bottom up.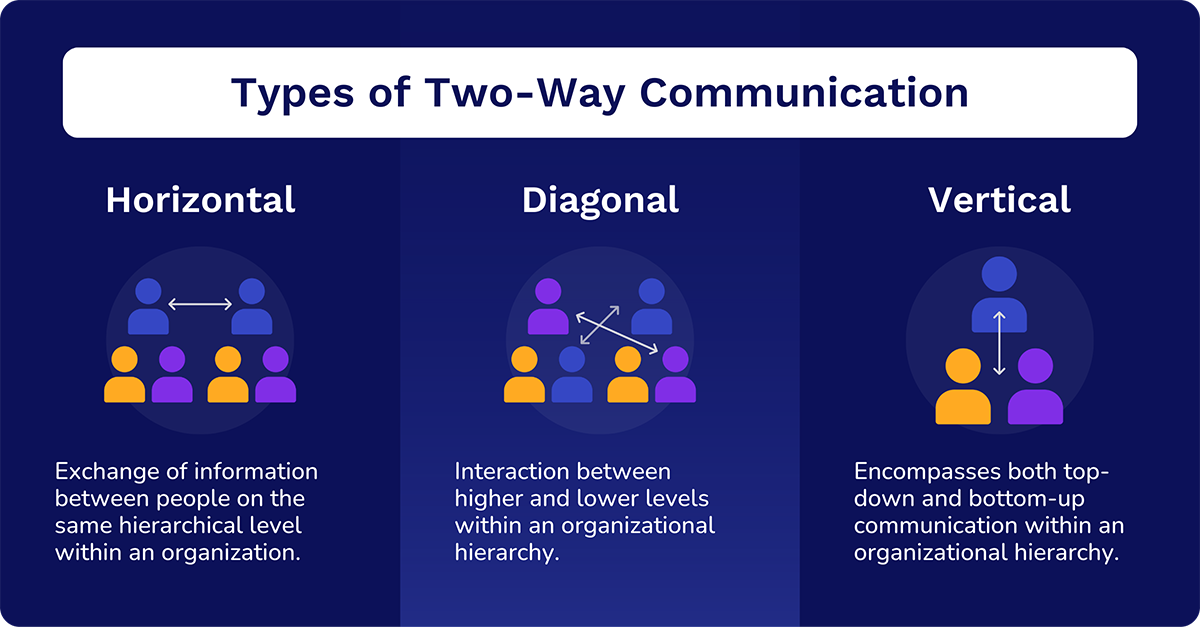 Of course, other types of communication may also be regarded as two-way communication systems. Peer-to-peer communication, where colleagues share ideas and feedback, is a typical two-way communication system. So too is operational communication, which encourages an exchange of ideas between employees across the board.
Unveiling the Benefits of Two-Way Communication
Two-way communication is the lifeblood of organizations. Companies argue that strong internal communications, underpinned by vibrant two-way interactions, are paramount for high employee engagement. This essentially refers to the capacity of the team members to connect not just with their work, but also with their fellow colleagues and the overall organizational vision.
In terms of practical benefits, two-way communication allows companies to get direct feedback from their employees. This may be facilitated through various channels, including virtual town halls, employee pulse surveys, or even more informal chats around the proverbial virtual water cooler. The importance of feedback cannot be understated, as it enables organizations to identify areas that need improvement and act on them swiftly and decisively.
"When leaders throughout an organization take an active, genuine interest in the people they manage, when they invest real time to understand employees at a fundamental level, they create a climate for greater morale, loyalty, and, yes, growth." Patrick Lencioni, author of The Five Dysfunctions of a Team
Two-way communication also plays a huge role in fostering a positive organizational culture. A culture where all employees feel heard and valued breeds a sense of ownership and loyalty, which in turn leads to higher productivity and employee retention. Average companies communicate in one direction — from top to bottom. Great companies communicate in two directions — from top to bottom and from bottom to top.
But what happens when a team is dysfunctional? Let's have a quick look at Patrick Lencioni's dysfunctional team model.
How to Overcome Dysfunction
Patrick Lecioni's bestselling book, The Five Dysfunctions of a Team: A Leadership Fable, first published in 2002, highlights dysfunctions so that teams can overcome them. Many people recognize it as a foundational source of teamwork because they realize that all teams are potentially dysfunctional. So what are the five dysfunctions?
An absence of trust prevents teams from building trust simply because they are afraid of being vulnerable.
A fear of conflict that leads people to pretend there is harmony in the team.
A lack of commitment that prevents team members from making decisions they are likely to stick to.
An avoidance of accountability that is often caused by "interpersonal discomfort."
Inattention to results caused by personal goals that erode the all-important focus on collective success.
Best Practices for Effective Two-Way Communication
Integrating two-way communication effectively into your operations doesn't need to be a difficult task. It simply requires strategic planning and commitment. Here are a few proven practices that can help spur effective two-way communication in your organization.
Adopt various communication platforms to reach more employees. Traditional means incorporating features like town hall meetings, employee surveys, and emails that can be used in tandem with more modern channels like communication chat apps and internal social media. For instance, weekly team meetings can be supplemented with continuous virtual chat dialogs on platforms like Facebook Messenger or WorkChat.
In today's age of conversational commerce and pervasive connectivity, more informal platforms including chat apps have emerged as powerful tools that we can use to promote employee engagement. Regular virtual town halls, wellness checks, and pulse surveys can maintain the momentum of communication and ensure that all voices are heard.
In the same vein, well-crafted employee newsletters can be used to share important news. At the same time, they can offer an avenue for employees to share their personal opinions, successes, and ideas. Additionally, engaging employee pulse surveys can help HR teams gauge the mood and engagement levels within the team, promoting an ongoing dialogue between management and staff.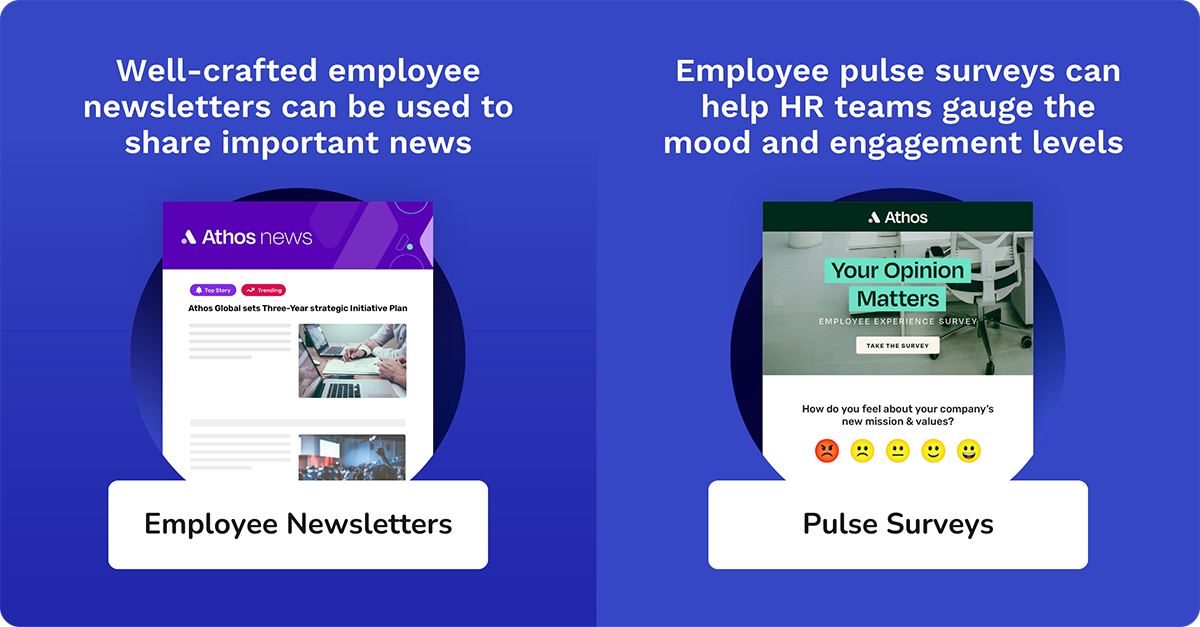 Conducting regular virtual town halls and employee pulse surveys are a great way to ensure a smooth, continuous two-way communication process. Employee engagement and employee feedback are the core aims of these town halls and surveys.
Two-Way Communication Examples
Examples of effective two-way communication abound in the corporate world. Take the example of an organization that conducts town halls every quarter. Management explains their strategic decisions and future plans, then opens the floor for employees to ask questions and share their thoughts on the agenda. This way, the organization gets valuable feedback while the employees feel included in the decision-making process.
An illustration closer to the ground might be a manager who doesn't just send out directives through emails, but also encourages responses. By asking for feedback and suggestions, this manager fosters an environment where relationships are facilitated and individual contributions are recognized.
Some other examples are:
Email exchanges between peers to coordinate tasks, request information, and provide input.
Managers communicating corporate objectives, priorities, and updates down to teams. Employees can ask clarifying questions.
Performance reviews allowing managers and employees to exchange feedback in both directions.
Implementing Two-Way Communication Systems
Two-way communication is at the heart of effective employee engagement and a robust organizational culture. Little wonder, organizations harnessing this key to unlock the full potential of their workforce are far ahead of those that do not. It leads to an environment of trust, promotes positivity, and improves decision-making. In a study guide on organizational behavior, two-way communication was mentioned as a crucial determinant of individual behavior in workplaces.
Internal communication has evolved with the advent of digital technology. Businesses are increasingly adopting various tools like virtual town halls, employee pulse surveys, employee emails, employee newsletters, chat apps, and other kinds of employee feedback mechanisms to make their employees feel heard.
HR teams play a pivotal role in implementing two-way communication systems. They are akin to the air traffic control of organizational communication, ensuring messages and feedback circulate efficiently. Studies have shown a direct correlation between effective communication and the level of trust within an organization. By opening up channels for employees to voice their opinions, ideas, and concerns, businesses build a leveled field that fosters transparency and trust.
Cerkl Broadcast Supports Two-Way Communication
Cerkl Broadcast's internal communication software is designed for two-way communication. It serves as a centralized hub for all communication assets, ensuring that internal communicators can easily access and manage information, making long-term planning much more effective.
Broadcast's omnichannel capability is particularly effective for two-way communication. It removes the need for those in charge to select channels for most internal comms. Instead, your employees can select the channels they prefer to use. This means all employees can access comms wherever they are, on site, in a remote location, or even in another country.
The Broadcast platform also offers great content scheduling features. For example, communicators can strategically plan the timing and frequency of messages to reach employees at the best possible time.
Another advantage of Cerkl Broadcast's versatile platform is that it enables communicators to segment their audience based on criteria like department, role, or location. This facilitates precise and hugely beneficial targeting when it comes to communication planning.
What's Next?
Have you analyzed the effectiveness of your communication program? Have you embraced the all-important concept of two-way communication? Cerkl Broadcast offers a well-designed, all-embracing platform that will enable you to apply and implement a two-way communication system that will enhance your existing system and take it to a new, exciting level.  
FAQ
What is two-way communication?
Two-way communication is a process where information is exchanged between two parties, allowing for a reciprocal flow of messages. Unlike one-way communication, where information is simply transmitted from a sender to a receiver, two-way communication involves both parties actively sending and receiving messages. It enables feedback, questions, and a more interactive exchange of information between participants. This type of communication is often characterized by its responsiveness and engagement, facilitating better understanding and collaboration.
What do you mean by two-way communication?
Simply put, two-way communication is a process where information is exchanged between two parties, where both send and receive messages.
How do you ensure two-way communication?
Ensuring two-way communication involves actively soliciting and acknowledging feedback, encouraging open dialogue, fostering a culture of collaboration, and utilizing communication channels that facilitate both sending and receiving information effectively.
What is an example of two-way communication in the workplace?
Regular feedback sessions where employees not only receive guidance from their managers but also have the opportunity to share their thoughts and concerns are a good example of two-way communication in the workplace.